As we discussed in our recent Falling Stars blog post, CMS has adopted an aggressive approach in managing the Five-Star Quality Rating System. Their overall goal is to realign the star rating calculations and provide a more accurate overall rating system for SNFs.
As our article mentioned, going forward CMS will adjust QM cut point values much more frequently than in the past.
Case in point: Last week, without warning or announcement, CMS changed the Five-Star calculations again.
Have you compared your April 2019 Five-Star Summary Report to previous Five-Star reports? Is there a mismatch? Have you seen Five-Star results in SimpleAnalyzer™ that seem inconsistent? If so, it's due to last week's adjustment by CMS.
While CMS didn't announce these changes, here's what we believe happened:
CMS changed the Five-Star cut points (again), which are reflected on the April Five-Star Summary Report.
Unlike past calculation updates, this time CMS "unfroze" previous quarterly QM calculations going back four quarters, resulting in an unexpected change to four-quarter averages.
The resulting change in rolling four-quarter averages caused a more significant star loss than expected for some facilities. (This is also the reason SimpleAnalyzer™ calculations did not match the Five-Star Summary Report.)
The new QM calculations mean your most recent Five-Star Summary Report will not match previous reports when comparing numbers for 2018 Q1-Q3.
CMS also adjusted the QM calculation for Short-Stay Pressure Ulcers, which now utilize data from July 1, 2017 through June 30, 2018, rather than four most recent quarters.
We don't know when (or if) CMS will clarify these changes with an announcement. If they do, we'll pass along the information to customers.
What about Staffing Five-Star changes?
It's not only Quality Measures that are affected. As discussed in ezPBJ's recent blog post, CMS has increased the emphasis on RNs in the Five-Star ratings (also unannounced), causing many facilities to lose a Staffing star.
The two main Staffing Five-Star changes are:
Daily RN coverage rule tightened
Five-star cut points and weighting shifted
We expect the changes to affect the Oct. 1–Dec. 31 report, which would be the first time you would see the impact of these new cut points.
What SimpleLTC is doing to help
For SimpleAnalyzer™ customers, we quickly rolled out calculation updates to adjust for the CMS changes. You'll see the updated results reflected in the software now.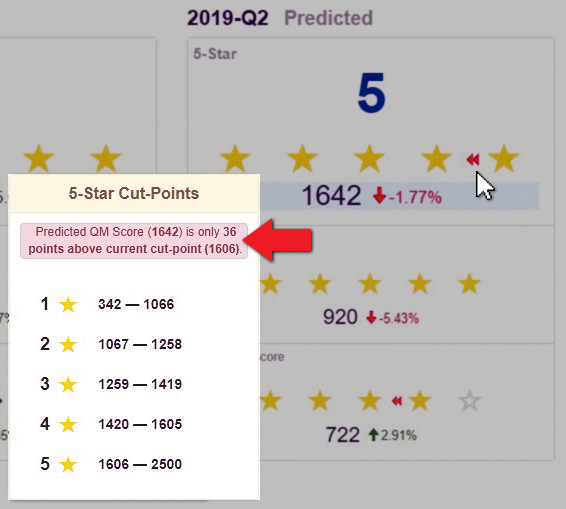 While CMS' new approach makes predictive calculations more difficult than ever, we're determined to create the most accurate, cost-effective and easiest to use analytics system on the market. We welcome your feedback as we continue to enhance SimpleAnalyzer™ to meet your needs.
For example, we've recently added a new alert threshold in the SimpleAnalyzer™ Quality Measure view. When you have a facility that's within close range of moving up or down a star, you'll be notified. Be sure to leverage this feature to track when you have a facility that's close to the next cut point (up or down a star).
Avoid future star losses – stay proactive!
While the latest CMS change caught everyone by surprise, we don't expect it to be an isolated occurrence. CMS will likely make more unannounced QM/Staffing changes in the future, which may or may not include retroactive changes to previous quarterly results.
All this uncertainty means you need to be more vigilant than ever!
Be sure to leverage all your internal resources and analytics to take a proactive look at your QM and Staffing results. When it comes to CMS, always expect the unexpected.
At SimpleLTC, though we can't predict when CMS will make changes, we'll help you prepare for them with continuously updated SimpleAnalyzer™ features that will help you maximize your Five-Star results.