Master PDPM diagnoses with this powerful free tool
---
To help you master PDPM, we've launched a FREE version of our powerful PDPM Diagnosis Explorer tool. Now you can:
Navigate 65,000+ ICD-10 codes
Validate PDPM primary diagnosis codes
Identify associated clinical categories
Explore NTA and SLP comorbidities for PDPM
Target ICD-10 codes for surgical eligibility

Try it now. Scroll down to start simplifying PDPM diagnoses with the SimpleAnalyzer™ Diagnosis Explorer…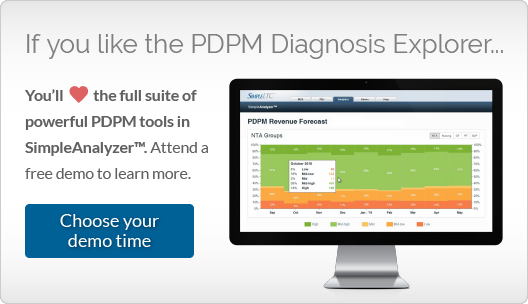 Try the SimpleAnalyzer™ PDPM Diagnosis Explorer
---
It's simple! Type part of a diagnosis code into the search box and press Enter. Explore the color-coded tags for billable status and comorbidities. Use the buttons to specify NTA/SLP Comorbidities or Surgical Eligibility. Mouse over diagnoses to explore diagnosis synonyms.
---
Explore ICD-10 diagnoses for PDPM