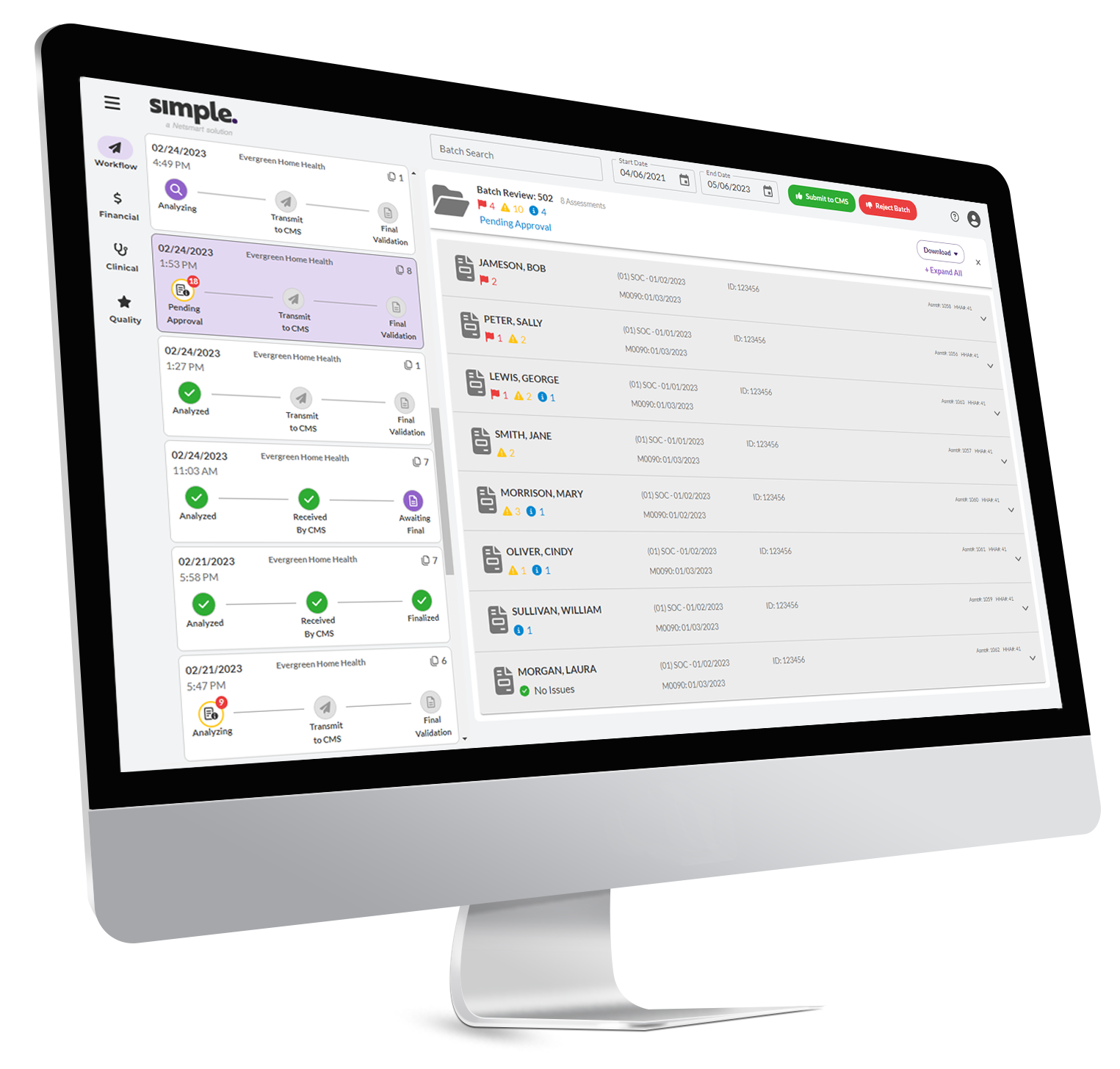 OASIS-E and PDGM just got simpler
SimpleHomeHealth™ is your simple solution to OASIS-E compliance.
Now you can optimize PDGM reimbursement, streamline OASIS‑E compliance and improve patient care — all with one easy-to-use, affordable tool.
---
Supercharge your PDGM processes
---
SimpleHomeHealth™ helps you optimize PDGM reimbursement, streamline OASIS-E compliance and improve patient care.
---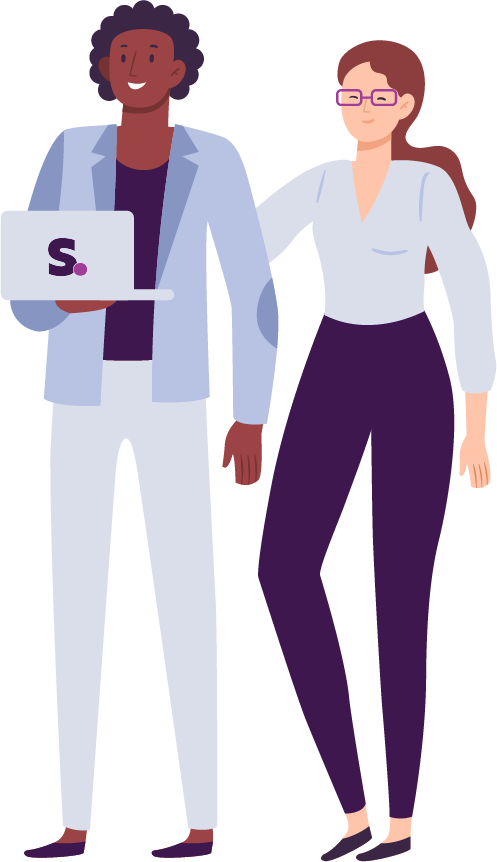 Streamline CMS submission and reporting
Submit OASIS files to CMS via iQIES and retrieve CASPER reports in a single click, while viewing activities for all your agencies in one simple dashboard.
Optimize PDGM reimbursement
Use real-time analytics to
uncover PDGM revenue opportunities, flag OASIS errors and omissions, and stay ahead of regulatory surprises.
Simplify OASIS-E data workflow
Ensure your OASIS data is accurately analyzed, scrubbed and validated before submission to iQIES, reducing risk of errors and rejections.
---
Real-time data makes the difference
---
Use intelligent, predictive analytics to simplify workflow and maximize clinical outcomes.
---
---

Optimize OASIS data through predictive scrubbing and analytics. Review data across episodes, patients and agency locations.
Maximum PDGM reimbursement
Get an in-depth view of episode management and its effect on revenue. Use diagnosis coding tools to optimize reimbursement.
Streamline and automate OASIS submissions across one or multiple agencies. Manage all your CASPER reports and iQIES connections in one place.
It all comes down to the patient. By improving episode management and OASIS accuracy, you can guarantee the best outcomes for the patients in your care.
AVAILABLE NOW
SimpleHomeHealth™ Connect
---
One simple solution to analyze, scrub and submit OASIS-E files.
---
Streamlined OASIS-E submission to CMS.
Automatically submit OASIS-E batches to CMS via iQIES, eliminating the complexities of data transmission so you can focus on quality care.

---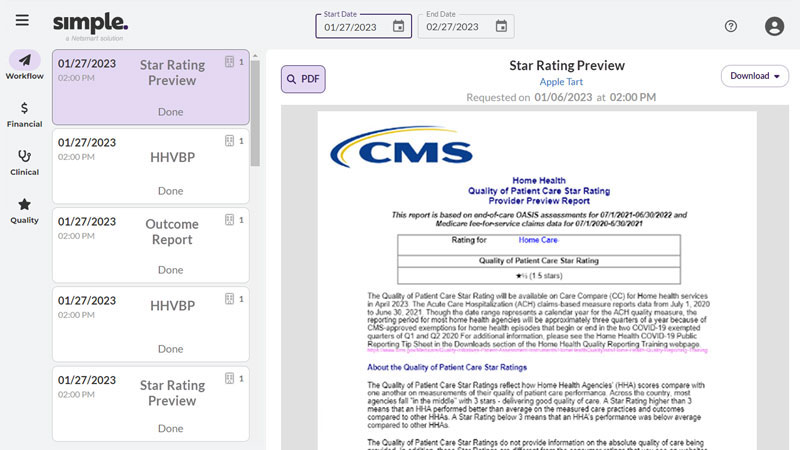 iQIES report center for all your agencies.
View CMS reports in a single dashboard across all your agencies, so you can easily make informed decisions. 
---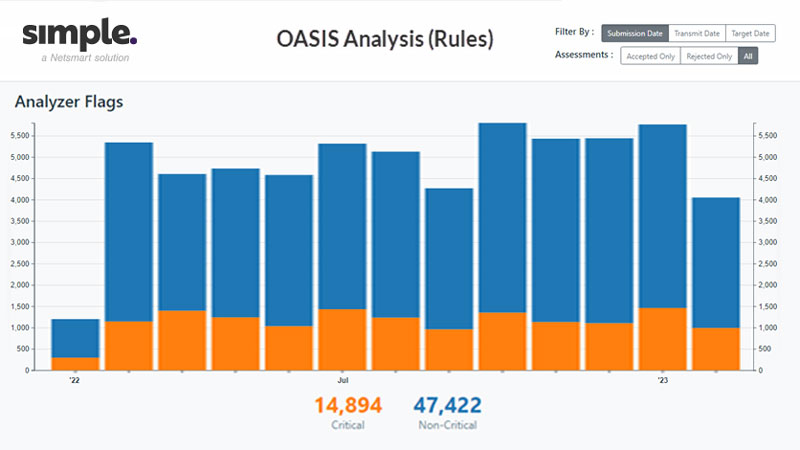 Data scrubbing and analytics for complete compliance.
Get a clear view of your OASIS-E accuracy and compliance, with the ability to see and correct issues quickly, while easily managing multiple facilities.
---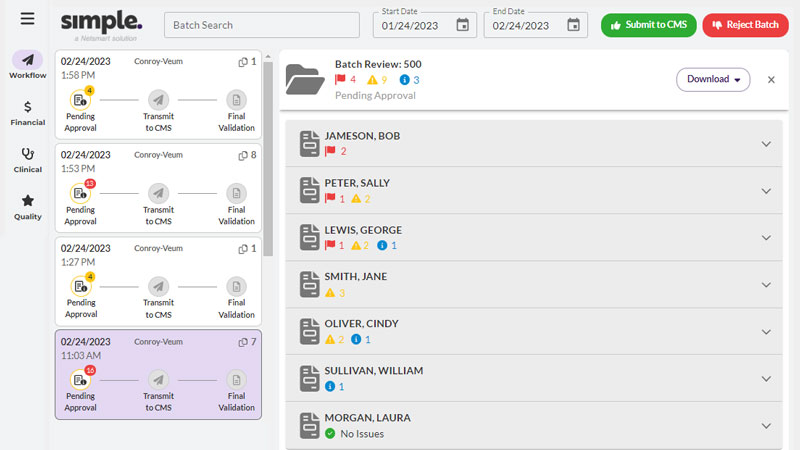 Simple OASIS-E scrubber rule management.
With detailed data checks and simplified rule customization, say goodbye to errors and regulatory headaches.
SimpleHomeHealth™ Connect |

TRANSMISSION WORKFLOW
---

---
Scrubbing, submission and CASPER reporting in one streamlined process.
Once your OASIS is scrubbed and reviewed, submit your clean files with the click of a button and automatically retrieve iQIES reports in a simple dashboard.
SimpleHomeHealth™ Analyzer
---
Real-time analytics for optimizing OASIS-E, Five-Star and VBP results.
---
---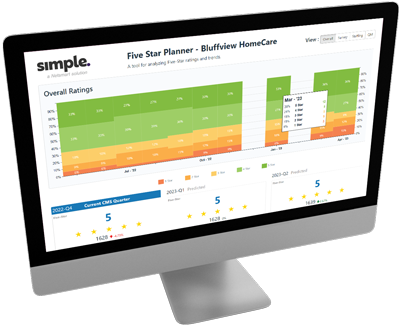 SimpleHomeHealth™ Analyzer will provide unprecedented, real-time control over your OASIS-E data and PDGM results.
---
Predictive analytics tools, working in conjunction with SimpleHomeHealth™ Connect, will provide deep OASIS-E insights to improve clinical groupings and episode-based outcomes.
Quickly understand trends and predict rating changes. View data by metric and and drill down by individual agency and patient.
---
Reduce rehospitalizations
Easily review clinical details to help reduce rehospitalizations, diagnose irregularities and optimize clinical outcomes.
---
Predictive data analytics
Comprehensively audit clinical files to find problem areas, inconsistencies and negative trends, so you can correct errors in real time.
---
Forecast PDGM reimbursement and impact while optimizing coding practices and proactively managing audit risk.
---
Automate the collection and submission of patient feedback, so you can make informed decisions and drive improvement.
---
Compare results against other providers to help predict outcomes and identify patients needing immediate attention.
---
Get your free demo
---
See SimpleHomeHealth™ in action, including OASIS-E scrubbing, data submission, and reporting workflow.
---
Learn how
SimpleHomeHealth™ can drive OASIS compliance and PDGM success for your organization.
Sign up now for your free online demo.
---
---