Resources for managing the Texas Medicaid/MCO environment
A new, highly competitive Managed Care environment came to Texas long-term care on Mar. 1, 2015. The introduction of STAR+PLUS Managed Care program and MCOs marks a dramatic change for skilled nursing facilities. Use these resources to automate your workflow, stay in compliance and protect your reimbursement.
---
On-demand webinars
NEW! The 2017 Texas MCO environment: What you need to know to survive and thrive
Jan. 17, 2017
Get the latest details about Texas MCO billing and administration from some of the state's top experts, including practical advice on managing workflow and protecting reimbursement in 2017. We also provide a brief overview of the latest SimpleLTC tools for MCO claims scrubbing and analysis.
Download webinar slides
Riding the MCO wave: How to stay above water in the new Texas Managed Care environment
Learn the latest strategies Texas SNFs are using to manage MCO workflow and protect reimbursement. We'll also debut the latest SimpleLTC tools for Texas MCO reporting and analysis.
Download webinar slides
Webinar: Texas MCO Prior Authorizations – What providers need to know
Sept. 1, 2015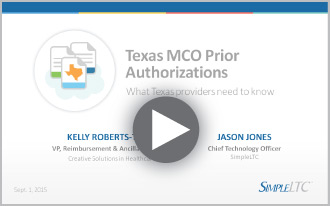 Learn about the new Texas Standard Prior Authorization Request Form, accepted by MCOs beginning Sept. 1, plus SimpleCFS™ functionality to automate Prior Auth processing.
Download webinar slides
Get an update on the Texas Medicaid Managed Care/MCO transition, as well as important tips for navigating the complex authorization and reimbursement process.
Download webinar slides
---
Webinar: Using SimpleCFS™ for managed care and MCOs in Texas
Feb. 24, 2015
Nearly 80% of Texas facilities use SimpleCFS to automate Texas Medicaid. Here are several new features to help you manage your workflow under the new MCO structure.
Download webinar slides
Webinar: Preparing for STAR+PLUS Medicaid managed care
Dec. 11, 2014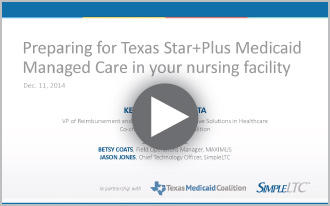 Presented by SimpleLTC and Texas Medicaid Coalition, this webinar provides important steps your facility should take to ensure you're ready for the Mar. 1 MCO/managed care changes.
Download webinar slides
---
---
FAQs and resources
MCO Prior Authorization Crosswalk for Texas Facilities
Download this free crosswalk resource as a quick reference guide for managing MCO prior authorizations.
Download crosswalk
FAQ: How SimpleCFS™ helps you manage MCO processes
To help address customer questions, we've created an MCO FAQ support document and will continue to update it as new questions arise.
Texas HHSC answers your STAR+PLUS managed care questions
Dozens of questions were asked during our webinar and Texas Medicaid Coalition has worked with HHSC to get answers to all of them.