CORE Analytics: Reimbursement
---
Unlock the full potential of your SNF organization's real-time Claims data
CORE Analytics identifies missed Medicare and Medicare Advantage revenue opportunities by employing thousands of statistically modeled logic tests on claim files in advance of billing — before it's too late.
Current monthly performance is benchmarked against our proprietary database of 2,000+ facilities nationwide. Claim review for financial opportunity identification is far superior to "scrubbing" the MDS, which simply compares static MDS elements to each other.
The dynamic claim is a better source for comparative analysis as it automatically pulls from a dozen different places at the end of the fragmented revenue cycle process.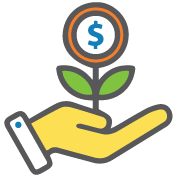 The average "hard ROI" on the CORE logic test review is 8:1. The new assessment process — with one assessment controlling payment for up to 100 days — can cost your SNF thousands of bottom-line dollars based on a single coding error.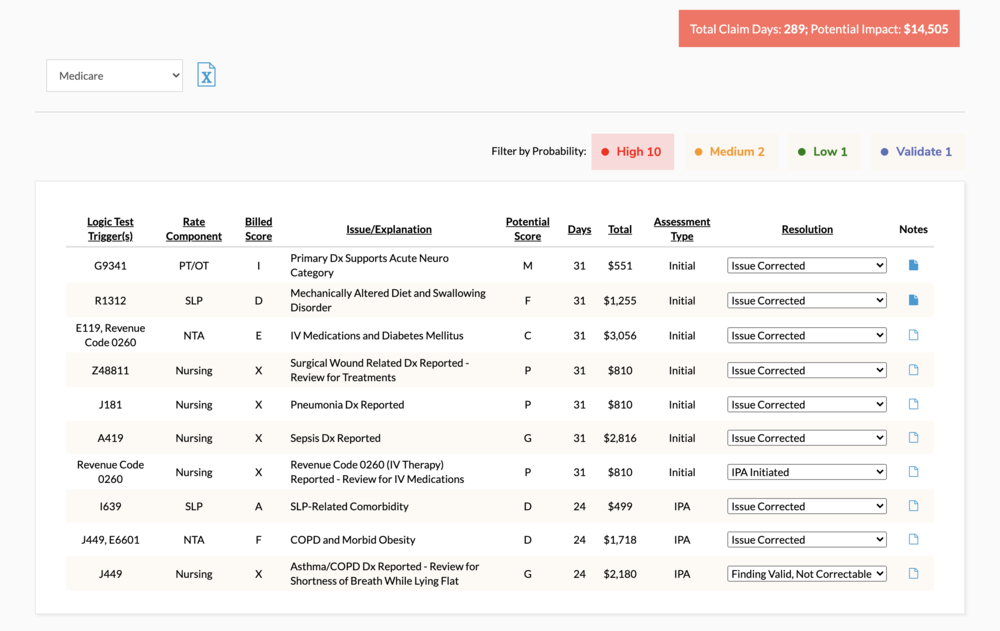 Capture lost reimbursement
CORE's algorithm compares every claim element to the associated PDPM billing level captured by the MDS. These patient-specific logic test findings are then validated in the EMR by the facility's reimbursement team concurrent with the triple-check process.
Simply load claims into the application each month, and logic test results are automatically created. There's no integration required with your billing or EMR systems; if you bill the Medicare Administrative Contractor then you have the claim file needed for analysis.
Benchmark revenue performance
Benchmarking performance in the old RUGs system was elementary, with only one or two metrics driving success. PDPM has introduced dozens of new variables that must be tracked and trended each month.
The challenge with any new payment system is both the lack of current industry data to benchmark your performance against and the speed by which the new payment system evolves. CORE's proprietary database allows you to compare your revenue performance current to the month billed against your peer group.
The associated "case-mix creep" (speed by which payment elements rapidly evolve in a new payment system) necessitates using a current dataset to compare your PDPM performance against.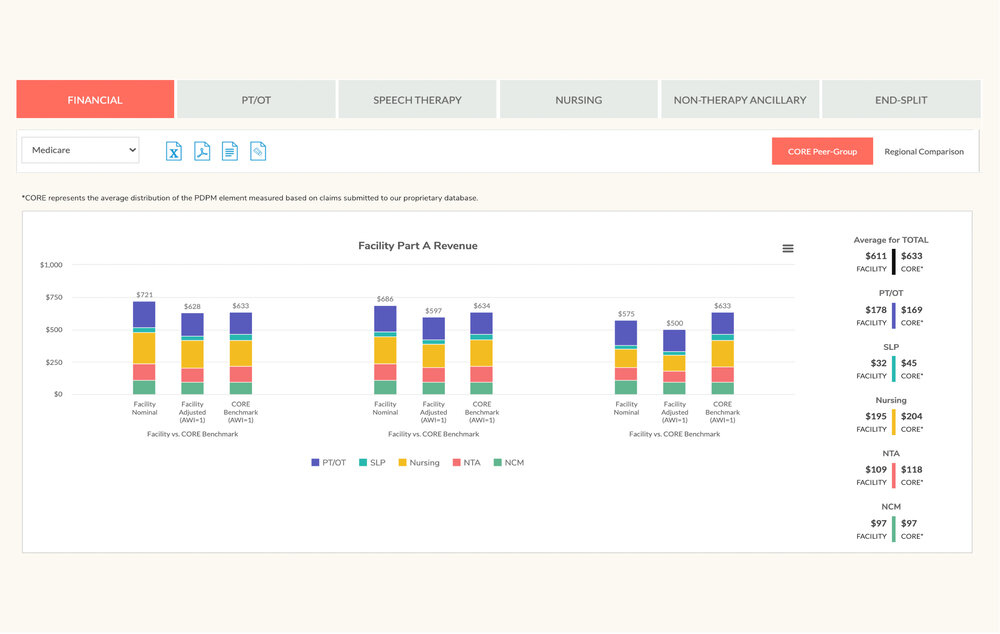 Get your free CORE demo
Book a personalized online demo to learn how CORE can help you identify opportunities for growth
---
Schedule demo