PBJ success still lies in the details
The PBJ landscape is more complex than it has ever been. Calculating hours per resident day, tracking turnover, logging agency shifts, verifying RN coverage, and cross-referencing EmployeeIDs are no small tasks for those of us responsible for collecting PBJ data and submitting quarterly files to CMS. In a fast-paced industry always balancing automation and accuracy, the human touch remains critical to PBJ success. 
Understanding Turnover Calculation
CMS calculates turnover measures directly from PBJ submissions, tracking both EmployeeIDs and shift data.  
Who qualifies for CMS' turnover calculations? 
Exempt, Non-Exempt, or Contract staff that are designated the following PBJ Job Titles:

Administrator (1)

Registered Nurse Director of Nursing (5)

Registered Nurse with Administrative Duties (6)

Registered Nurse (7)

LPN/LVN with Administrative Duties (8)

Licensed Practical/Vocational Nurse (9)

Certified Nurse Aid (10)

Nurse Aid in Training (11)

Medication Aid/Technician (12)

Denominator Criteria: 

PBJ data for an EmployeeID shows at least 120 hours worked over any 90-day period

Numerator Criteria:

Eligible EmployeeID shows 60 days of no worked shifts, according to submitted PBJ data
Success Strategies
Accurate and timely PBJ submission is more important than ever. Here are some tips to keep in mind: 
If you haven't done so already, compile the pieces (all payroll, time-keeping, or agency data) of your PBJ data NOW.

Upload shift and staff data into SimplePBJ on a regular basis (every month or more frequent). This not only spreads out the workload throughout the quarter but enables you to track HRD and Turnover measures in real time and make adjustments if needed before the quarter ends.

When assembling your PBJ data, ask the following questions:

Have we recorded all of our 

exempt

 (salaried) hours?

Did we add all 

contract

 (agency, therapy, consultant) hours?

Do our 

nursing hours

 (PBJ Job Titles 5 - 12) look correct?  

Did we remember to 

remove meal breaks

 for everyone?

 (CMS requires a minimum of 30 minutes be removed for every 8 hours worked)

Have all 

non-worked hours

 (PTO, sick days, holidays) been removed?

Are there any 

significant changes from last quarter

?
Times Marches On: Updated Look-Back Period
Five-Star Reports for April, May, and June 2023 will use the look-back period of April 2021 – September 2022 for PBJ turnover. 
---
PBJ deadline reminder:

Mon, May 15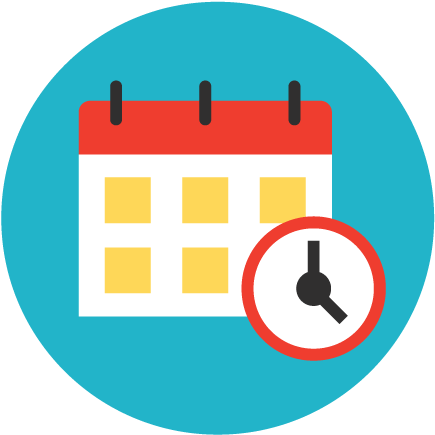 Your Q2 2023 (January 1, 2023 – March 31, 2023) PBJ staffing data is due by Monday, May 15 and should post to Care Compare at the end of July 2023.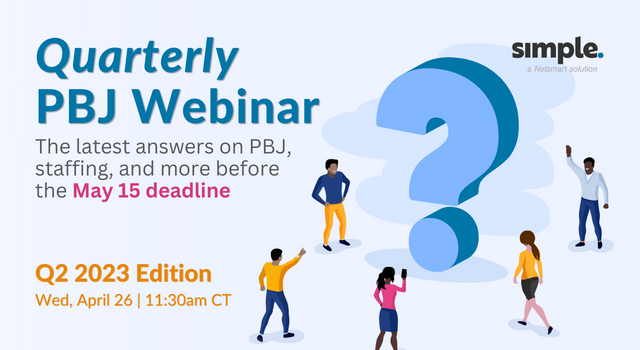 Save your seat now
Free PBJ webinar | April 26, 11:30am CT
SimplePBJ will host its PBJ Quarterly Check-In on Wednesday, April 26. This free webinar is your opportunity to stay up to date on PBJ news and to get a quarterly refresher on building your PBJ file.