The Cost of Inaction: 19 Deaths an Hour and Rising is the title of the report released late last week by Senators Bob Casey (PA) and Ron Wyden (OR). Here's the Executive Summary from this must-read 8-page report: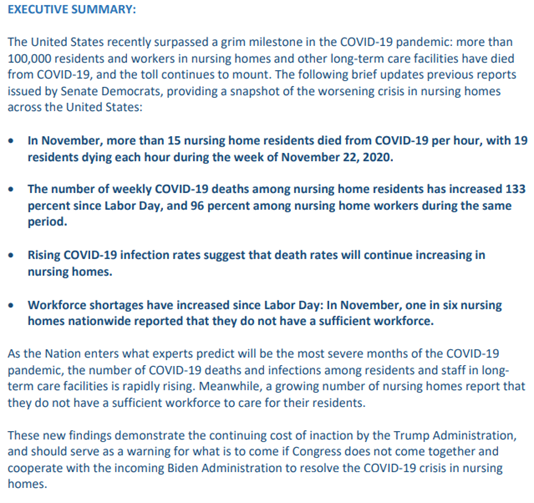 The charts as well as information within the report, the references and the conclusion make the case that help is needed now.
"In the five months since Senate Democrats first released their report on the crisis in nursing homes and identified urgently needed solutions, tens of thousands of residents and workers have died in these facilities. Now, as the United States counts more than 104,000 lives lost to the pandemic in long-term care facilities, inaction is tantamount to a death sentence for thousands more.
America needs a national strategy to save lives in nursing homes, including a sufficient supply of PPE, ample access to testing, resources for vaccine distribution, funding for strike teams and adequate workforce supports, and accountability measures to uphold resident rights and permit safe visits with family. Nursing home residents and workers cannot afford to wait to get the help they desperately need. Congress must come together to pass a comprehensive COVID relief package. The lives of seniors, people with disabilities and frontline workers depend on it."