On Feb. 19, 2019, SimpleLTC and Patient Pattern offered one of our most anticipated and highest attended webinars to date: "It takes a village: The team approach to PDPM preparation". (Watch it on demand here.)
During the webinar, our experts explained the importance of a strategic team approach to PDPM and also debunked 5 common myths surrounding PDPM.
Scroll down to discover the myths and the real explanation behind each.
Myth 1: Chasing clinical complexity will increase PDPM reimbursement
One common myth around PDPM is that skilled nursing facilities will receive greater reimbursement for increased medical complexity. However, it's important for nursing homes to be aware of the hidden costs associated with clinical complexity, such as increased staffing, increased staff development and training.
Failure to develop out a new PDPM program could lead to a lowered census. It could also lead to increased deficiencies, rehospitalizations, and lawsuits.
Will an extra $30 a day in Medicare reimbursement cover a 2% loss in reimbursement? Consider all factors when evaluating whether the benefits of increasing clinical complexity will outweigh the risks.
Myth 2: Fewer MDS assessments mean fewer MDS coordinators
Some facilities believe that since there will be fewer MDS assessments, fewer MDS coordinators are required. Currently, there are approximately 435 questions on the MDS. Under RUG-IV, approximately 20 of those questions impact reimbursement. Under PDPM, 161 MDS item fields will be used for tracking reimbursement.
And who will track those changes? MDS coordinators, of course. So they play an even more crucial role for reimbursement under PDPM.
You need to ask yourself… how will you train your MDS coordinators with these changes? Also, evaluate whether you have enough MDS coordinators on staff. Shift your attention to training your MDS coordinators on changes now and ensure you are adequately staffed prior to Oct. 1.
Myth 3: If ICD-10 coding drives PDPM reimbursement, MDS coordinators and therapists need to be ICD-10 coders
A common fallacy is that since there's less of a need for therapy and MDS coordinators, they could be utilized for PDPM coding. False!
There are approximately 68,000 ICD-10 codes. Many therapists and MDS coordinators are not experts in ICD-10 coding and it's unrealistic to expect them to become experts in such a short period of time. Instead, give them critical resources like PDPM analytics software to aid their success.
Myth 4: If therapy no longer drives reimbursement, you can decrease therapy minutes
In the last 20 years, nursing homes have changed from private pay facilities in terms of getting more therapy-based care for things like knee replacements, hip replacements and more complex therapeutic care.
However, even if therapy will no longer drive Medicare reimbursement, that does not mean skilled nursing facilities should cut therapy staff. You will still need to document therapy minutes on each MDS. In addition, therapy staffing levels are captured on your Payroll-Based Journal (PBJ) reporting.
CMS has warned that if there are decreases in therapy services, skilled nursing facilities will be audited. Even under PDPM, therapy remains as one of the most important parts of the interdisciplinary team and will continue to be integral towards discharging patients who need a lower level of care to avoid rehospitalizations.
Myth 5: If therapy and NTA reimbursement decrease over time, you can decrease the length of stay
For the last 20 years, rehabilitation has served as one of the main drivers getting residents placed into skilled nursing facilities. Nursing homes must be cognizant to avoid radically changing the way that we deliver therapy services based upon reimbursement.
Regarding rehospitalizations under PDPM, non-therapy ancillary reimbursement will decrease after Day 3 and PT and OT will incrementally decrease after Day 20. Therefore, there is a danger of nursing homes attempting to decrease their length of stay.
A shorter length of stay can ultimately harm you in the long run by negatively impacting patient satisfaction, census, claims-based quality measures and value-based purchasing.
Tying it altogether
Although the new Patient-Driven Payment Model introduces many new changes, the same principles of quality care still apply. Before implementing changes to your existing processes, ask yourself if the risks outweigh the rewards. Evaluate all factors before implementing significant changes to your processes.
As the clock ticks down to Oct. 1, spend the next few months training your staff and equipping them with the best resources. By doing this, you'll maximize your success under PDPM.
---
Need more PDPM tools in your toolkit?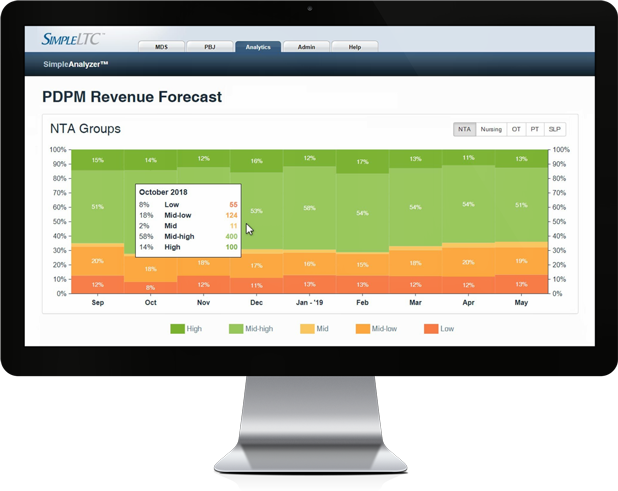 Explore the whole suite of powerful PDPM tools in SimpleAnalyzer™. Forecast and track PDPM reimbursement, optimize primary diagnoses, predict CMI trends, and much more.