Use these free resources to maximize your success in the new VBP landscape
The FY 2022 Final Rule from CMS includes a proposal for a significant expansion of the Value-Based Purchasing (VBP) program. These changes would increase the number of metrics used to calculate the VBP payment multiplier from a single metric focused on Rehospitalization to a variety of metrics from different data sources.
SimpleLTC has assembled some free resources to help your skilled nursing organization prepare for success in the changing VBP landscape. Use these tools to create strategies for VBP success and optimize your outcomes and discharge scores for QRP.
Get the latest details of the new Value-Based Purchasing metrics and learn which VBP factors you should pay attention to now in order to maximize your success in the new VBP landscape.
You'll learn the new objectives CMS has added to the VBP program, understand the impact of VPB changes on your SNF operations, and get clear strategies for successfully navigating the future of VBP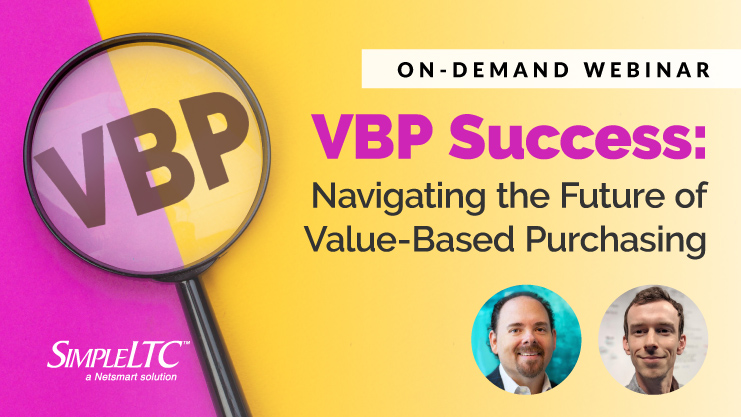 Free VBP discharge score worksheet
Use this free tool to explore the impact of the covariate values CMS uses to calculate the Expected Discharge Score for the S024 – Discharge Self-Care Score and S025 – Discharge Mobility Score Quality Measures included in the Quality Reporting Program (QRP).
Simply enter the S024 and S025 values from a resident's 5-Day assessment to see the Expected Discharge Score for the corresponding stay.
Get your free VBP resources
To watch the VBP webinar and download the VBP discharge score worksheet, click below. And let us know what other resources and data reports would be helpful for your Value-Based Purchasing success.