I hope that everyone had a safe holiday week!   I'm putting these updates into a digest form so you can see what happened last week regarding COVID information.
Updated Strategies for Optimizing the Supply of Facemasks (CDC)— This guidance has been updated to include the following:
Added considerations for returning to conventional capacity practices
Conventional Capacity Strategies

Clarified healthcare personnel (HCP) use of facemasks for source control and as PPE to protect their nose and mouth from exposure to splashes, sprays, and respiratorysecretions

Contingency Capacity Strategies

Added clarifications on extended use of facemasks as PPE
Added clarifications on restriction on facemask use by HCP as PPE rather than by patients for source control

Crisis Capacity Strategies

Revised section on limited re-use paired with extended use
Deleted the strategies of designating convalescent HCP for the provision of care of patients with SARS-CoV-2 infection, use of expedient patient isolation rooms, and mechanical headboards
Scientific Brief: Community Use of Cloth Masks to Control the Spread of SARS-CoV-2 (CDC) — CDC has issued a brief that reviews and analyzes the rapidly growing body of science supporting use of cloth masks in communities to control the spread of COVID-19.
Long-Term Care Staffing During COVID-19 (IDPH) – a 3-page document - was issued to Iowa LTCFs "in response to a growing number of facilities experiencing challenges in staffing normal operations during the pandemic, the state has worked to create a workflow that can be leveraged by facilities to more effectively engage partners that can assist during an event causing a staffing shortage."
You'll note this on the bottom of page 2:
Resources and contact information is found on page 3.
Face Masks, Including Surgical Masks, and Respirators for COVID-19 (FDA)provides information on FDA-regulated face masks (including cloth face coverings), surgical masks, and respirators (filtering facepiece respirators, such as N95 respirators) intended for a medical purpose to assist in preventing the spread of infectious materials during the COVID-19 pandemic.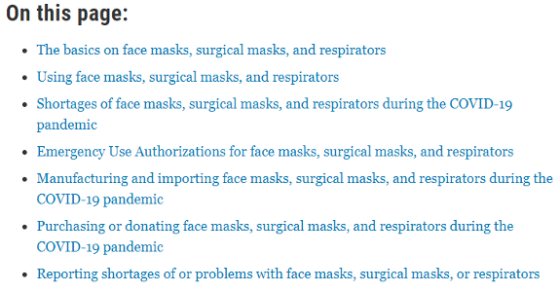 COVID-19 Vaccines (CDC) shows an update of November 25, 2020 but I'm not able to see what was specifically updated.  I did spot some updated information on the ACIP Meeting Information link as well as some of the other links on the vaccines page.  Additional info on COVID-19 vaccines is also found here and on this Vaccination FAQ website.
State COVID-19 Vaccination Plans are available for some specific states:
NHSN LTCF Module – new Pathway forms, templates and instructions.
Resident Impact and Facility Capacity: 
Staff and Personnel Impact:
Facility Resources:
---
Group Resources:
---
Want to keep up with the changing COVID-19 situation in skilled nursing?