COVID-19 Nursing Home Data for Week Ending August 16, 2020 is now available.
As always, the Nursing Home Dataset is accessible further down beneath these and other graphs on that same website.  Check out the other resources and information available there as well.
---
CMS-3401-IFC (Medicare and Medicaid Programs, Clinical Laboratory Improvement Amendments (CLIA), and Patient Protection and Affordable Care Act; Additional Policy and Regulatory Revisions in response to the COVID-19 Public Health emergency – Interim Final Rule with Comment Period) is scheduled for publication in the Federal Register on Wednesday, September 2, 2020:

These regulations are effective as of September 2, 2020 and are applicable for the duration of the PHE for COVID-19. Section 488.447 is applicable 1 year beyond the expiration of the PHE for COVID19. The amendment to § 414.1305 and the expansion of telehealth codes used in beneficiary assignment for the CMS Web Interface and CAHPS for MIPS survey (found in section II.I. of the preamble) are applicable beginning January 1, 2020.Comment period is 60 days from September 2, 2020.
---
Updated Nursing Home Infection Control Surveys are available.  Scroll down this webpage to access the Surveys – you'll find them beneath Related Links.  This website was updated August 26, 2020.
You also find Full Text of Statements of Deficiencies – August 2020 on this same website.
---
$2.5 Billion to Nursing Homes for COVID-19 Relief Funding is the August 27, 2020 HHS News Release, noting that almost $2.5 billion of a planned $4 billion nursing home distribution has been made to "support increased testing, staffing, and personal protective equipment (PPE) needs."
"This distribution of almost $2.5 billion in additional funding to over 15,000 nursing homes nationwide supplements the $4.9 billion that was previously distributed to skilled nursing facilities. HHS plans on distributing another $2 billion to nursing homes later this fall based on certain performance indicators that will be shared in the future."
Other key elements of this News Release include:
Training and Mentoring for NHs: Participation in training and mentoring will be voluntary and nursing homes that participate will receive compensation to cover the costs of staff training time.  Nursing homes will be able to begin signing up to participate in the Network in the coming weeks and training is expected to begin in September.
CMS and CDC Additional NH Training Efforts: Training for NH staff and management.
Nursing Homes and Long-Term Care Facilities

 

guidance documents updated.
A state-by-state breakdown on the $2.5 billion that was distributed can be found here.
---
The Food and Drug Administration (FDA) has updated the FAQs on Testing for SARS-CoV-2 website. There's a lot of information on this website – scroll down that page to find the FAQs.  There are two that were updated on August 26, 2020.  I'm going to show just a snippet of each so make sure to go on to that website and read each in full: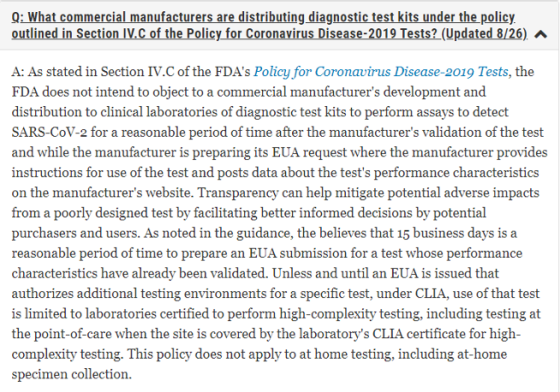 Check out the other FAQs while you're on the website; bookmark it for future reference.
---
1.5 Million N95 Respirators from the Strategic National Stockpile for Distribution to Nursing Homes is the August 25, 2020 HHS News Release for this announcement.  Approximately 3,336 nursing home facilities across the United States will receive these respirators.
"Beginning Aug. 28, 2020, the Defense Logistics Agency will direct shipments of N95 respirators to select nursing homes that recently reported having enough supplies for only zero to three days of operations. These respirators are meant to supplement existing supplies of personal protective equipment (PPE) and will provide a seven-day supply for each nursing home to support an entire shift before discarding used products.
Certified by the National Institute of Occupational Safety and Health (NIOSH), these N95 respirators are produced by O&M Halyard and made in the United States. Each shipment will contain a 4:1 mix of size regular and small respirators as validated by historical distribution ratios from the medical distributors.
The quantity of respirators distributed to each nursing home will be based on the number of medical staff employed at the facility, as reported to the Centers for Medicare and Medicaid Services database. Each state's governor was notified of the pending shipments during the Vice President's call with governors on Aug. 18, 2020.
These shipments support only Medicare and Medicaid-approved nursing homes and are in addition to prior shipments of PPE distributed in order to safeguard our most vulnerable populations during the COVID-19 pandemic."
I've highlighted the key information above.  Please review the News Release for more details.
---
Deploy 150 Million Rapid Tests in 2020 is the August 27, 2020 HHS News Release.  A contract as been awarded for $760 million to Abbott for delivery of 150 million rapid, Abbott BinaxNOW COVID-19 Ag Card Point of Care (POC) SARS-CoV-2 diagnostic tests to expand strategic, evidence-based testing in the United States.  Testing will be potentially deployed to schools and to assist with serving other special needs populations.
By strategically distributing 150 million of these tests to where they're needed most, we can track the virus like never before and protect millions of Americans at risk in especially vulnerable situations."
---
Want to keep up with the changing COVID-19 situation in skilled nursing?