Free training resources: MDS 3.0 changes
Each year, MDS 3.0 changes and Resident Assessment Instrument (RAI) Manual changes affect MDS workflow and reimbursement for all skilled nursing facilities. SimpleLTC has worked with state and national experts to bring detailed training on the changes to facilities across the country, free of charge.
---
On-demand webinars
Oct. 1 changes: RAI manual revisions and the Final Rule update
October 2019 brings a multitude of changes. Watch this webinar to learn the latest RAI manual changes and Final rule updates for 2019 from one of our industry's most recognized experts.
Aug. 20, 2019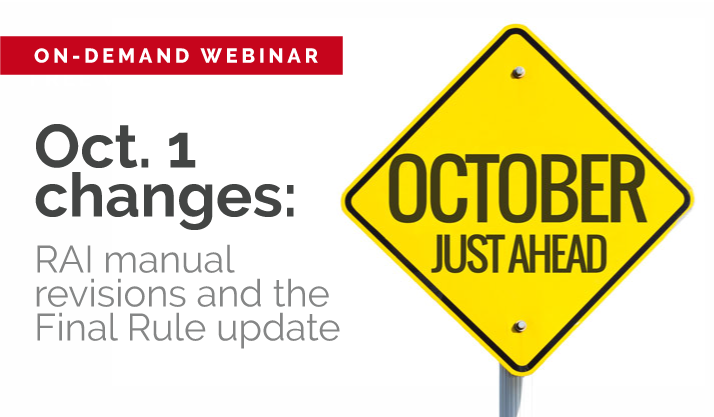 ---
MDS updates for 2018, featuring Ron Orth
Sept. 20, 2018
QRP and MDS Updates: 2017 and Beyond
Sept. 26, 2017
---
---
QRP and MDS Updates: 2017 and Beyond
Sept. 19, 2017
New QRP quality reporting changes – are you ready?
Oct. 4, 2016
---
---
Section GG: Completion and coding requirements
Sept. 16, 2016
RAI manual updates for MDS 3.0 – 2016
Aug. 18, 2016
---
---
MDS 3.0 changes for 2016
Aug. 3, 2016
MDS 3.0 changes for 2015
Oct. 2, 2015
---
---
MDS 3.0 changes for 2014
Sept. 29, 2014