New for Texas: Powerful, predictive analytics for maximizing QIPP performance and payments
We're pleased to announce our new analytics package built specifically for Texas facilities participating in the Quality Improvement Payment Program (QIPP) for SNFs.
The predictive QIPP analytics within SimpleAnalyzer™ are designed to help you maximize QIPP results across all your facilities. Now you can easily see predictive data for all four QIPP Quality Measures. Real-time metrics include resident data up to your most recently submitted MDS batches. You can also estimate quarterly QIPP payments at the company or facility level, and quickly identify specific areas for rapid QIPP improvements.
The new QIPP analytics package is included at no additional charge for all Texas SimpleAnalyzer™ users.
With SimpleAnalyzer QIPP analytics you can…
Estimate QIPP quarterly payments by company or facility
View simple summaries of QIPP calculations and payments
Analyze individual QIPP metrics and performance levels
Compare target levels, baseline and national averages
Pinpoint areas for rapid QIPP improvement
Drill down to resident-level QM assessment data
Within each quality measure, you can easily see how close you are to achievement targets and pinpoint areas for rapid QIPP improvement: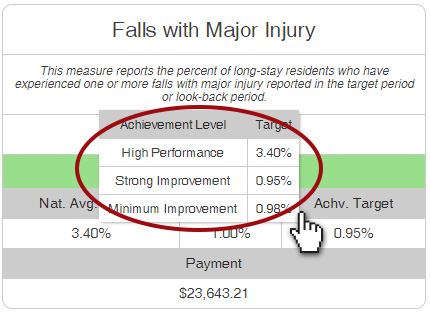 Current SimpleAnalyzer users can find the new QIPP dashboard by navigating to State > Texas > QIPP, as shown here: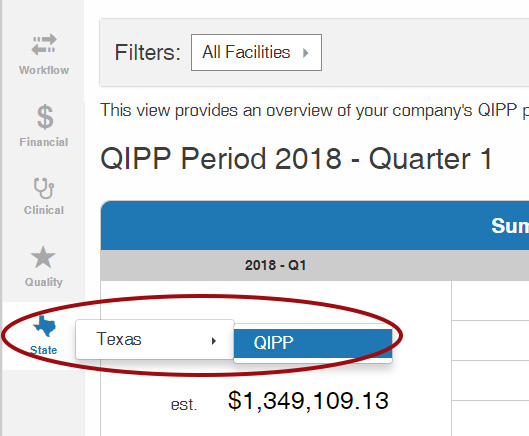 Watch the brief video above [2:21] for a quick walk-through of this powerful new functionality for Texas SNFs.
Get your free QIPP analytics trial
For more info, a free demo, or to learn how to get a free trial of the new Texas QIPP analytics, please visit
this page
or call 469.916.2809.