TMHP is releasing an update during maintenance on Thursday, Aug 25, 2022. The update will consist of changes to the available actions of certain PL1 forms and PCSP forms.
Our team works diligently to update SimpleCFS in response to changes made by TMHP to make sure your data is compliant.
 Read on to learn about the updates and what you can expect from Simple.
Update 1: PCSP's New Meeting Type: "Invalid"
---
TMHP will invalidate submitted PCSPs (Initial or Annual) if the documented LA (LA - IDD and/or LA - MI) indicates that they were not in attendance at the IDT meeting.
What happens when the PCSP meeting is invalidated?
When the meeting is invalidated, SNF users will see the alerts generated by the LTCOP in the SimpleCFS "Alerts" area.

What do I need to do when this happens?
You will need to reconvene an IDT meeting and submit a replacement PCSP form. (The existing PL1 and PE forms are still eligible).
What happens to the invalid meeting?
The form will have limited functionality, and your facility will not be able to make edits to an invalidated PCSP form. SimpleCFS will provide the ability for users to view and/or delete these invalidated forms.
Update 2: New PL1 Action: "Admit to NF"
TMHP will modify the LTCOP to allow users to mark residents as admitted on pre-admission PL1 forms when a negative PE form is attached.  
What will I see in SimpleCFS?
SimpleCFS users will see a new "Admit to NF" option on the "Actions" menu for pre-admission PL1 forms that are linked to negative PEs. This action replaces the process of submitting a new PL1 as PASRR negative to indicate a resident has been admitted.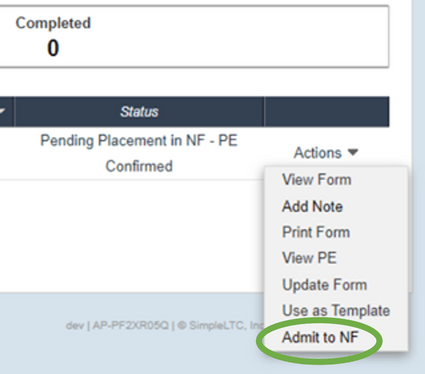 Update 3: Limited Actions for "Converted" PL1s
TMHP will modify the LTCOP to remove any remaining form action buttons from "converted" PL1 forms to prevent future problems that may need a data fix. 
What is a converted PL1?
Identifying active, converted PL1s on the LTCOP is not always straightforward. Converted PL1s are in either the "Negative PASRR Eligibility" or "Individual Placed in NF – PE Confirmed" status, whether a PE has been initiated from it or not (just like active non-converted PL1s).  The data conversion program was slightly changed with each LTCOP iteration from 2013 through 2014. Characteristics of converted PL1s may look different depending on which iteration was used at that time. Here are some ways to verify that you are working with a converted PL1.
On a Converted PL1, the fields A0700A, A1000F, B0700C, B0700D, D0100J, and D0100L may be coded with one of the following values:

Converted PL1s may be indicated by a history note entry that starts with a username of "Data Convert".
What will I see in SimpleCFS?
Converted PL1s will be rare in SimpleCFS. Starting once this update is released, when the "Use as Template" feature is applied to old PL1s affected by the "Data Convert" issue, the issue will not carry over. Forms created this way prior to this update will still be affected. 
SimpleCFS will limit actions on these types of PL1s to:
Viewing
Printing
Updating
Use as Template
What should I do if I need to initiate an NFSS for my residents with "converted" PL1 forms?
You will not be able to start an NFSS form linked to this type of "converted" PL1 following the release of this update on the LTCOP. The residents' eligibility check in the NFSS process will omit these PL1 forms from the selection process and will say there is no valid PL1/PE on file. 
The PASRR process will have to be restarted by replacing the converted PL1 with a newer PL1. In SimpleCFS, the newer PL1 can be created by utilizing the "Use as Template" option. This shortcut will not apply to the LTCOP.
Conclusion
Your Simple support team is available to help you navigate these updates from TMHP. Feel free to reach out if you have questions and look out for updates to your SimpleCFS application after Aug 25, 2022.
---
Curious about SimpleCFS?
Visit this page to learn more