Accurately documenting your primary diagnosis is crucial for maximizing PDPM reimbursement. On Oct. 1, CMS will not accept an MDS without a valid primary diagnosis. To help you prepare for PDPM, we've launched a FREE version of our powerful PDPM Diagnosis Explorer tool.
With the PDPM Diagnosis tool, you can explore 65,000+ ICD-10 codes and verify their validity, identify associated clinical categories, explore NTA and SLP comorbidities, and target codes for surgical eligibility.
You can explore thousands of ICD-10 codes and NTA/SLP comorbidities for FREE in a few simple steps:
Type part of a diagnosis code into the search box and press Enter.
Explore the color-coded tags for billable status and comorbidities.
Use the buttons to specify NTA/SLP Comorbidities or Surgical Eligibility.
Mouse over diagnoses to explore diagnosis synonyms.
Try our free PDPM Diagnosis Explorer tool
How the PDPM Diagnosis Explorer helps you
Under RUG-IV, therapy minutes were the main driving factor for reimbursement. But under PDPM, the primary patient diagnosis will determine PDPM success. CMS wants a clear picture of the patient's condition to justify the skilled services provided to the patient.
If you're not an expert at ICD-10 coding, that's okay. You won't need the full ICD-10 condition coding, or to code at the same level of precision as hospitals, or to memorize 65,000+ codes. The key is to work smarter, not harder. If you aren't already, get familiar with the process of coding. Leverage resources like our Diagnosis Explorer tool. Check the codes in the current MDS used for financial impact assessments and see which ones were valid under RUG that won't be valid under PDPM.
After you're comfortable with optimizing ICD-10 coding practices, then you can focus on analyzing your current population and how they would perform under PDPM. In order to do that, we highly recommend you implement an MDS analytics tool (like SimpleAnalyzer™) before Oct. 1.
---
Need more PDPM tools in your toolkit?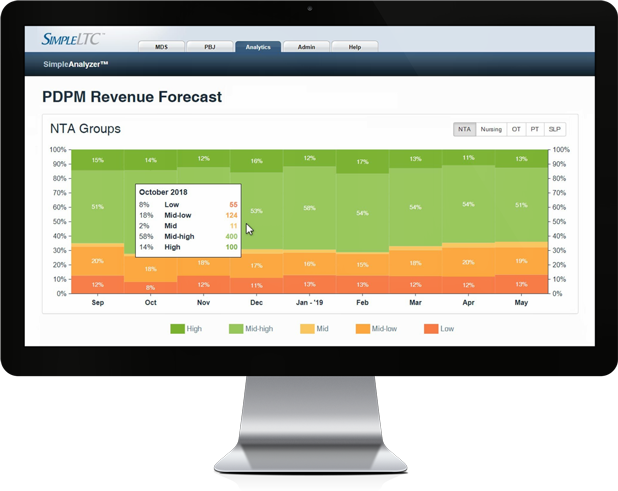 Explore the whole suite of powerful PDPM tools in SimpleAnalyzer™. Forecast and track PDPM reimbursement, optimize primary diagnoses, predict CMI trends, and much more.