CMS has posted an updated Nursing Home Five-Star Technical Users' Guide with guidance on their new rating threshold increase methodology. On average, the cutpoints for this change have increased by 29.5 points for each star rating, and the new minimum score for a 5-star rating is 1510 instead of 1475.
Here's a look at the before and after: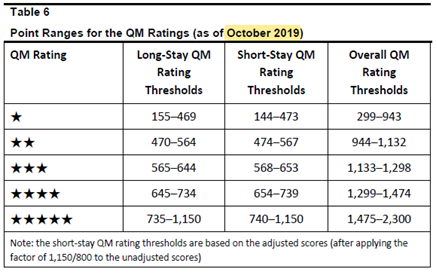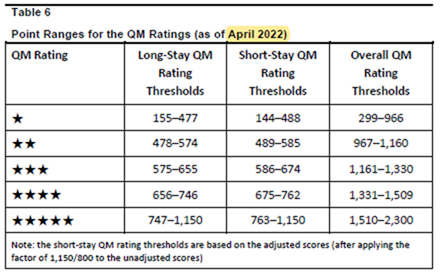 The CMS goal is to promote continuous improvement in quality while reducing the need for larger cutpoint adjustments in the future.
Beginning with this new April 2022 refresh, every six months CMS will increase "each rating threshold by one-half of the average improvement in QM scores since the last time the thresholds were set." For example, for an average rate of improvement of 2%, the QM threshold will increase 1%.
What does this mean to me?
CMS has alerted us in the past that cutpoint changes will cause QM ratings to fall for many skilled nursing facilities, which can result in a reduction in overall Five-Star ratings. This latest adjustment in QM cutpoint values certainly may be enough to affect your star ratings. If your rating changes, dig into your QM data now to be sure you understand why.
View your predicted Five-Star with the new cutpoints
Your data is your strongest asset when it comes to proactively managing your Five-Star rating. For SimpleLTC clients, we've already updated the cutpoints within the system. Be sure to log into SimpleAnalyzer™  now and check the Quality Measures page to view your predicted Five-Star rating using the new cutpoints.
Questions? As always, please reach out to our Support Team.