Earlier today, I blogged about the Interim Final Rule with Comment Period that was posted online late yesterday.  Now there's more information and it's a lot to digest.
QSO-20-38-NH and QSO-20-37-CLIA, NH were posted shortly before the CMS COVID-19 Nursing Homes Call at 4:30pm Eastern Time.  I recorded this call so it could be disseminated quickly.  Listen to the 30-minute call here.
QSO-20-38-NH is a 22-page memorandum.  I've copied/pasted the Memorandum Summary below.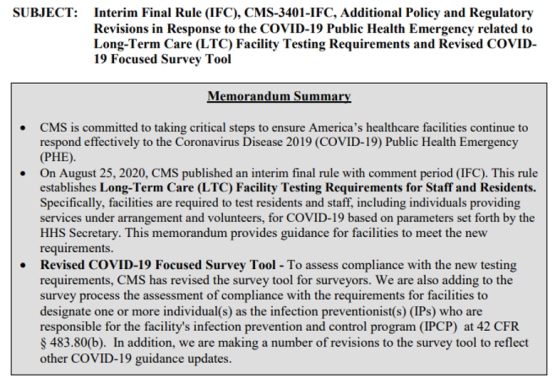 CMS's recommendation below to test with authorized nucleic acid or antigen detection assays is an important addition to other infection prevention and control (IPC) recommendations aimed at preventing COVID-19 from entering nursing homes, detecting cases quickly, and stopping transmission. Swift identification of confirmed COVID-19 cases allows the facility to take immediate action to remove exposure risks to nursing home residents and staff. CMS has added 42 CFR § 483.80(h) which requires that the facility test all residents and staff for COVID-19. Guidance related to the requirements is located below. Noncompliance related to this new requirement will be cited at new tag F886.
Please review carefully and follow the Guidance for F886 starting on page 2 of this QSO.  Here are a couple of Tables from that QSO:
Topics addressed in detail within this memorandum include:
Testing of Nursing Home Staff and Residents
Testing of Staff and Residents with COVID-19 Symptoms or Signs
Testing of Staff and Residents in Response to an Outbreak
Routine Testing of Staff

Routine testing should be based on the extent of the virus in the community, therefore facilities should use their county positivity rate in the prior week as the trigger for staff testing frequency. Reports of COVID-19 county-level positivity rates will be available on the following website by August 28, 2020

Refusal of Testing
Other Testing Considerations
Conducting Testing
Reporting Test Results
Documentation of Testing
Surveying for Compliance
Additional Resource Links
COVID-19 Focused Survey for Nursing Homes
The revised COVID-19 Focused Survey for Nursing Homes is found starting on page 22 of the QSO.  SimpleLTC will also provide a complimentary copy of this revised survey at simpleltc.com/covid-19.
Now on to QSO-20-37-CLIA, NH:
This is a 6-page QSO memorandum.   It is a must-read so please take the time to do so.
As I noted earlier, there's a lot to digest which is what I'm doing now.  More coming in future blogs.
---
Want to keep up with the changing COVID-19 situation in skilled nursing?