When looking at the Case Mix Index (CMI) components driving your future PDPM reimbursement, don't overlook the importance of your non-therapy ancillary (NTA) comorbidity score. In this post, we'll provide some background on what the NTA comorbidity score is and why it will play a critical role under PDPM.
What is NTA comorbidity?
The NTA comorbidity score is a weighted count of the skilled nursing facility resident's comorbidities. The score is then used to classify the resident into an NTA component payment group. 
Comorbidities with higher increases in NTA costs are grouped into higher point tiers. Those with lower increases are grouped into lower point tiers. Individual NTA conditions have points ranging from 1-8. The resident's NTA comorbidity score is the sum of all points for the resident's conditions reported on the MDS. 
As an example, let's say a resident has two NTA-related comorbidities: chronic myeloid leukemia and opportunistic infections. Chronic myeloid leukemia has 3 qualifying ICD-10 codes and any one of them score 2 points. Opportunistic infections has 37 qualifying ICD-10 codes and any of them score 2 points. 
Therefore, as long as you code one of each in I8000, your resident's total NTA score is 4.
Importance of accurate ICD-10 coding
Under PDPM, 50 conditions and extensive services are considered for NTA classification. More than half of them come from I8000 and many of these have multiple qualifying ICD-10 diagnosis codes. It's easy to get to those 50, but the tricky part is understanding which ICD-10 codes match to the comorbidities.
As if it weren't already important, PDPM makes it even more imperative to practice accurate ICD-10 coding to optimize your NTA scores. 
To help, SimpleLTC is offering a free PDPM tool to optimize your ICD-10 coding practices for PDPM success. We suggest you start utilizing it now to explore how diagnosis codes and comorbidity scores will affect your reimbursement under PDPM.
Try the free PDPM Diagnosis Explorer tool
To help you prepare for PDPM, we launched a FREE version of our powerful PDPM Diagnosis Explorer tool. With the Diagnosis tool, you can:
Explore 65,000+ ICD-10 codes

Verify the validity of the ICD-10 code

Identify associated clinical categories

 

Explore NTA and SLP comorbidities

Target codes for surgical eligibility
---
---
Need more PDPM tools in your toolkit?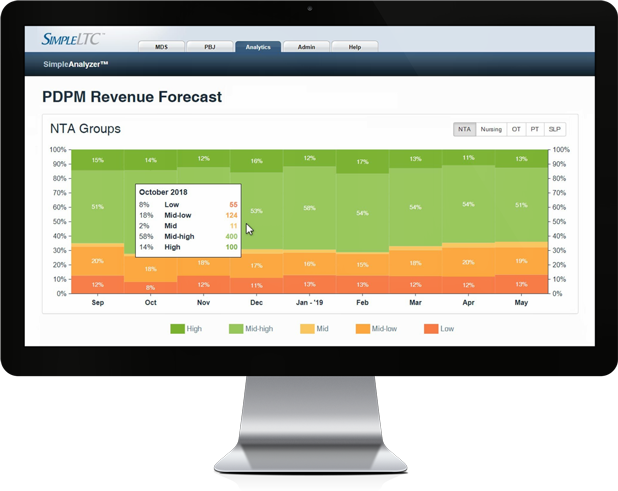 Explore the whole suite of powerful PDPM tools in SimpleAnalyzer™. Forecast and track PDPM reimbursement, optimize primary diagnoses, predict CMI trends, and much more.