Audits are a necessary evil in the Medicare world. CMS performs audits to prevent healthcare fraud and abuse. As a result, providers are subject to scrutiny and potentially negative financial consequences.
Now that the Patient-Driven Payment Model (PDPM) is almost upon us, it's important to look at ways you can minimize audit risk, or reduce negative outcomes if you do get audited.
Here are two critical areas to look at now if you want to take precautions to avoid audits under PDPM.
1. Calculate your therapy minutes
The most obvious way to avoid audits under PDPM is to manage your therapy minutes.
When PDPM is in effect, group and concurrent therapy combined cannot exceed 25% of therapy minutes. This area has the highest audit potential.
As CMS has explicitly stated in their PDPM documentation, "Consistent violation of this limit may result in your facility being flagged for additional medical review."
Even though the reimbursement model is changing, CMS wants to prevent SNFs from just changing one-on-one therapy to group or concurrent therapy. Residents still must receive individual therapy.
To avoid audits under PDPM, calculate your group and concurrent therapy numbers before Oct. 1.
Although it's not tracked in the MDS right now, there will be new Section O fields beginning Oct. 1 aimed at helping you make those calculations. In the meantime, do your best to calculate it internally and leverage helpful resources like the CMS fact sheets.
2. Find anomalies in your data
We predict CMS will be on the lookout for anomalies such as depression and BIMs scoring. If CMS sees a sudden spike in your prevalence of depression (PHQ-9 score over nine), they will be alerted immediately.
According to one research study, the average rate of depressive symptoms in SNF stays is 47.4%. The key word here is "symptoms."
That number — 47.4% — may seem surprising, as many facilities show a rate of depression closer to 3-4%. That's the number we saw when we analyzed millions of records in the SimpleLTC database of MDS assessments.
We suspect that 3-4% is very low. Per the study, the prevalence of minor depression is under 28% across the country for patients 65 and older, so there may be an opportunity to recover per-diem when you do your PHQ-9 interviews.
However, if the incidence of depression in your facilities suddenly jumps to 55% on Oct. 1, that's going to look very strange to CMS. They will investigate and audit you for proof.
To avoid audits under PDPM, don't overstate depressive symptoms. Ensure your data is accurate.
What do both areas have in common?
Accuracy is the key to everything under PDPM, especially coding.
Going back to our example of depressive symptoms, you should investigate where your gaps are and train your staff in implementing the PHQ-9. If you notice a low prevalence of depression, you may not be accurately capturing and documenting symptoms.
Also, don't forget to begin comprehensively completing Section D and Section C for cognitive impairment. Do it now so there's not a sudden spike in your rates Oct 1. If there is, it's going to look suspicious.
Document accurately, analyze intensively, and repeat
The most important thing you can do now is ensure that you are coding accurately. That way, if and when you are audited you can prove your data is correct.
Document correctly now. Minimize audit exposure later.
Start doing an internal audit of your therapy minutes and look for unusual trends or anomalies in your MDS data. By familiarizing yourself with your data now, you can proactively avoid audits under PDPM.
---
Need more PDPM tools in your toolkit?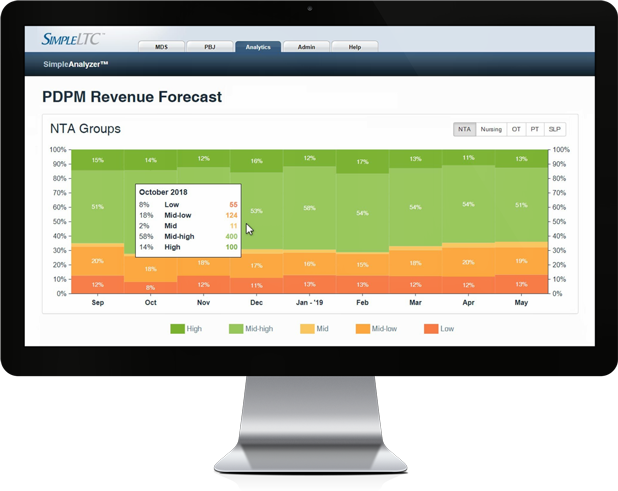 Explore the whole suite of powerful PDPM tools in SimpleAnalyzer™. Forecast and track PDPM reimbursement, optimize primary diagnoses, predict CMI trends, and much more.