Texas Medicaid automation for skilled nursing facilities just got easier
Providers who use SimpleCFS™ for Texas Medicaid MESAV, 3618/3619 and PASRR automation can now directly access all their TMHP electronic alerts from within SimpleCFS without the need to check the TMHP LTC Online Portal (TMHP portal).
As you may know, the Department of Aging and Disability Services (DADS) implemented Phase 2 of the PASRR redesign for Texas on June 27, 2014.
As part of this launch, TMHP began using the portal to notify nursing facilities whenever an LTCMI is submitted and the facility has not yet certified whether they are able to perform the specialized services described on the corresponding PASRR evaluation (PE). (As of now, this is the only electronic alert generated by the protal for NFs, though it may be used for other types of alerts in the future.)
To simplify our customers' workflow, we've added the ability within SimpleCFS to access these alerts directly from within the product, without the need to separately log into the TMHP portal.
To access your TMHP alerts within SimpleCFS
Log into SimpleLTC.
Click the "Texas" tab.
Click either "TMHP Alerts" in the form activity box or click "Alerts" in the blue bar at the top of the page.
The Portal Alerts page shows a listing of all your current alerts. To access a form that requires action, just click the DLN link. For PL1 forms, once you have certified the form and the certification has been transmitted to TMHP, the alert automatically disappears.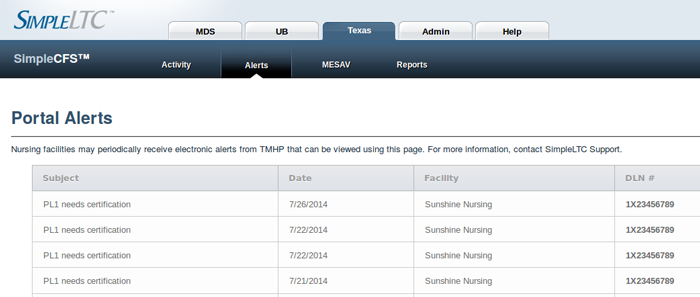 For more information