We're pleased to announce to SimpleMDS™ customers that we've just launched a brand new visual workflow that makes tracking the MDS transmission and final validation process much easier. Customer feedback is already very positive.
The new workflow offers three key advantages to customers:
1) A new progress bar lets you visually track MDS batch status
Now you can see at a glance where your MDS batch is in the transmission and analysis process. To open the final validation once the batch has been accepted, click the "f" icon at the far right. A number "badge" (number in a red number) indicates the number of assessments that were rejected.

2) MDS analysis is now built into the MDS transmission process
Now you can automatically analyze every MDS sent to CMS. All batches are currently run through our basic MDS validation checks, but soon you will be able to build your own rules to apply or automatically send assessments to third-party analyzer tools.
3) New visual indicators show rejections, duplicates and other stats
New icons and simple color coding lets you quickly see how many assessments were accepted or rejected by CMS.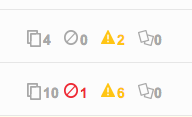 Check out the video
To see it in action, head over to the SimpleLTC Support Center and see our video walk-through.