CMS has provided this chart/graphic with data as of June 1, 2020: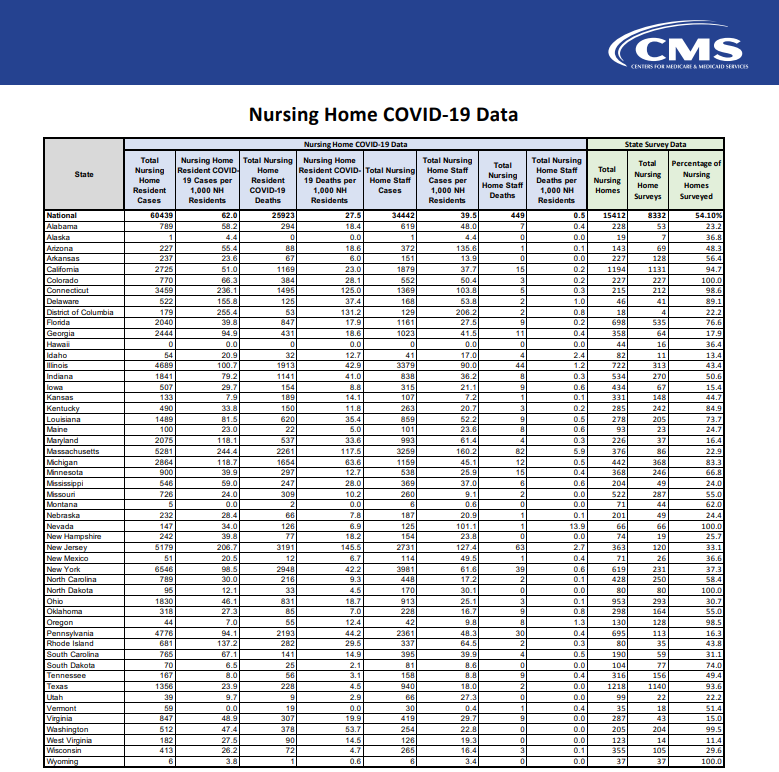 Beneath the chart online are these notations:
Nursing Home COVID-19 Data Source: CDC National Healthcare Safety Network (NHSN). This data reflects data entered into the NHSN system by nursing homes as of May 24.
State Survey Data Source: CMS Automated Survey Process Environment System (ASPEN)
Additional background: This data reflects reconciled survey information entered into the ASPEN system by State Survey Agencies. It represents complete surveys and those where a surveyor has logged onsite hours, but not yet completed the survey, as of May 29. There is a lag of between 10-21 days until the findings from these surveys are generated.
Limitations on Data Reporting: As with any new reporting program, some facilities will struggle with their first submissions, and therefore, some of the data from their early submissions may be inaccurate.
As facilities begin reporting in the early weeks, the increase in certain metrics (e.g., number of cases) is a reflection of an increase in reporting, rather than an increase in the actual number of cases.
Facilities may opt to report cumulative data retrospectively back to January 1, 2020. Therefore, some facilities may be reporting higher numbers of cases/deaths compared to other facilities, due to their retrospective reporting. Also, these cumulative reports are included in facilities' first weekly submission to the system. Therefore, the numbers in a facility's first weekly report may be artificially higher because it reflects information that occurred over a longer period of time (e.g., from Jan 1, 2020), rather than the last seven days.
The availability of testing may impact the number of confirmed COVID-19 cases facilities report. Facilities that did not have the ability to test all residents a few weeks ago would not be able to report all residents with confirmed cases. Similarly, access to testing can vary by state, region, or facility. Data may be inconsistent with state data, particularly state death data.
---
Want to keep up with the changing COVID-19 situation in skilled nursing?