States are working very hard to speed up COVID-19 vaccination rates.  Here are some state plans and dashboards you may want to check out and bookmark for future reference:
Texas

COVID-19 Vaccination in Texas dashboard 

Nebraska

Nebraska COVID-19 Vaccination dashboard.  On this same dashboard, you can access the COVID-19 cases in Nebraska.  Click on the yellow navigation bar at the top of this webpage. Return to the vaccination dashboard by clicking on the same navigation bar.

Mississippi
Arkansas
U.S. Virgin Islands
I will keep my eyes peeled for additional state plans and dashboards and will report them via the BNN Blog when I find them.
---
The CDC's COVID-19 Data Tracker now contains current information about COVID-19 vaccinations in the U.S.  This will be a great resource for all clinicians as well as others tracking the progress of vaccinations!
---
CDC updated Interim Clinical Considerations for Use of mRNA COVID-19 Vaccines Currently Authorized in the United Stateson December 30, 2020.  Updates include: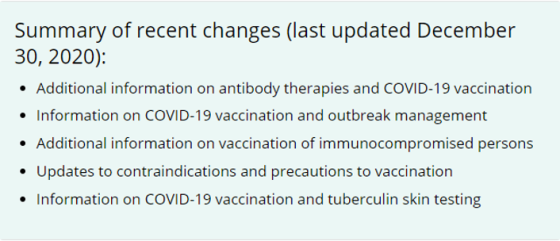 ---
Also updated on the above website is the link to Interim Considerations: Preparing for the Potential Management of Anaphylaxis After COVID-19 Vaccination.  This resource was last reviewed December 31, 2020.
---
The EEOC (U.S. Equal Employment Opportunity Commission) has updated the What You Should Know About COVID-19 and the ADA, the Rehabilitation Act, and Other EEO Laws website.  This was last updated December 16, 2020.  The website provides guidance and technical assistance for questions related to employment and the COVID-19 pandemic.  I encourage you to check out this resource.
---
Here's another CDC toolkit you'll want to take a look at: Long-Term Care Facility Toolkit: Preparing for COVID-19 Vaccination at Your Facility.  It was last reviewed on December 23, 2020. "This toolkit provides long-term care facility (LTCF) administrators and clinical leadership with information and resources to help build vaccine confidence among healthcare personnel (HCP) and residents. You play a critical role in providing trusted information and ensuring high COVID-19 vaccination coverage in your facility."
---
Additional CDC guidance updates in late December 2020 and very early in January 2021 include:
Strategies for Optimizing the Supply of Eye Protection
Strategies for Optimizing the Supply of Disposable Medical Gloves
Summary for Healthcare Facilities: Strategies for Optimizing the Supply of N95 Respirators during Shortages
Considerations for Retirement Communities and Independent Living Facilities
New COVID-19 Variants
The Importance of COVID-19 Vaccination for Healthcare Personnel
Importance of COVID-19 Vaccination for Residents of Long-term Care Facilities
Interim Guidelines for Collecting, Handling, and Testing Clinical Specimens for COVID-19
Employees: How to Cope with Job Stress and Build Resilience During the COVID-19 Pandemic