"The Centers for Medicare and Medicaid Services (CMS) has taken important steps to build a new source for data on nursing home staffing and to use these data to better inform consumers and improve nursing home oversight. CMS provides the public with some of this staffing information on the Care Compare website. There, consumers can use Staffing Star Ratings to compare nurse staffing between nursing homes. Additionally, CMS has implemented a robust process to ensure the reliability of this nurse staffing information.
However, CMS has opportunities to better use the staffing information that nursing homes report. Specifically, the staffing information that CMS provides on Care Compare could be more useful to consumers if it included data on nurse staff turnover and tenure, as required by Federal law. CMS reported that the COVID-19 pandemic delayed its progress to implement these requirements."
The above statements introduced the OIG Report (same title as the title of this blog) OEI-04-18-00451 (46 pages) that was posted March 9, 2021.
Why did OIG do this review?
This review focuses on the Centers for Medicare & Medicaid Services' (CMS's) use of data on nursing home staffing from April 2018 through March 2019— before the COVID-19 pandemic. (OIG) also noted recent CMS actions through December 2020. Since November 2016, CMS has required nursing homes to submit payroll-based staffing data, including data on nurses and non-nurses. In April 2018, CMS began updating staffing measures on Nursing Home Compare, a public website, with these staffing data. In December 2020, CMS replaced Nursing Home Compare with a new website called Care Compare. Care Compare includes the same staffing information that had been found on Nursing Home Compare. Specifically, consumers can search nursing homes on the basis of location and compare quality of care and staffing. The usefulness of this information to consumers depends on the extent to which it is complete and accurate. Further, CMS also works with State survey agencies to monitor nursing home compliance with Federal requirements, including those for staffing.
How did OIG do this review?
(OIG) analyzed staffing information reported by nursing homes, conducted in-depth interviews with subject-matter experts at CMS, and reviewed CMS documentation. (OIG) also surveyed State survey agencies to understand how CMS works with them to monitor compliance with requirements for nursing home staffing and to identify any gaps in oversight of nursing home staffing.
Here's the Table of Contents: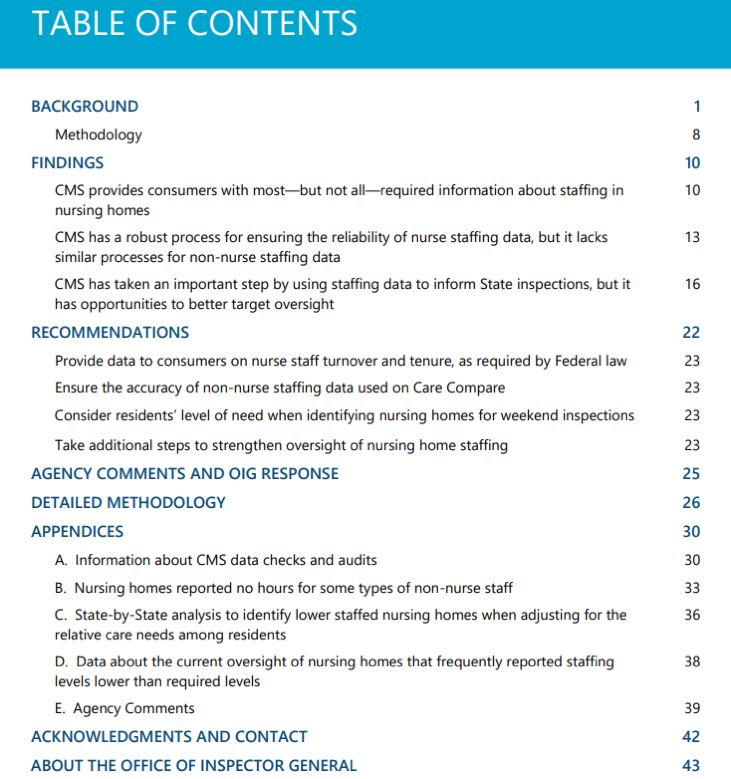 Findings (you'll want to read the report for the specifics!):
CMS provides consumers with most—but not all—required information about staffing in nursing homes
CMS has a robust process for ensuring the reliability of nurse staffing data, but it lacks similar processes for non-nurse staffing data
CMS has taken an important step by using staffing data to inform State inspections, but it has opportunities to better target oversight
Recommendations to CMS:
Provide data to consumers on nurse staff turnover and tenure, as required by Federal law
Ensure the accuracy of non-nurse staffing data used on Care Compare
Consider residents' level of need when identifying nursing homes for weekend inspections
Take additional steps to strengthen oversight of nursing home staffing
What does CMS think of the OIG recommendations? You'll want to read the specifics found on page 28. (Here's a hint: CMS concurred with all four of the OIG recommendations.) You'll also want to review Appendix E for more information on that topic.
Here's one of the many charts found in the Appendices: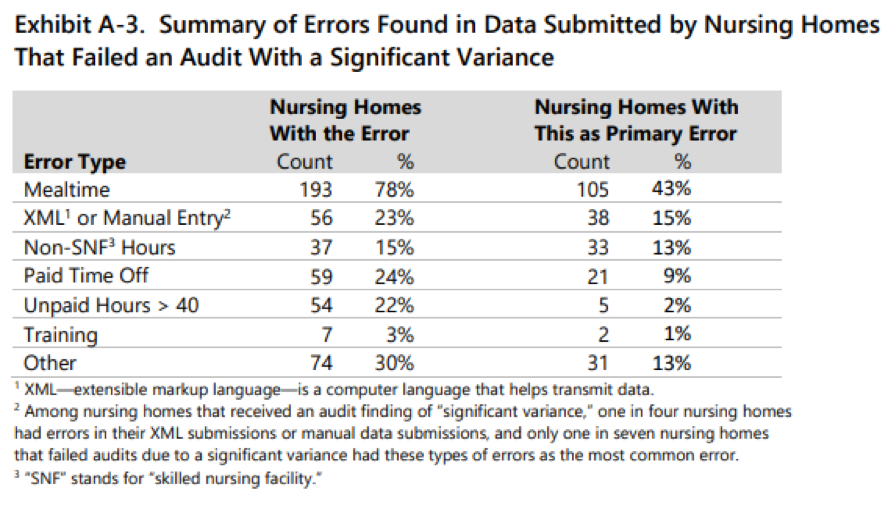 ---
SimplePBJ™: One-stop shop for PBJ success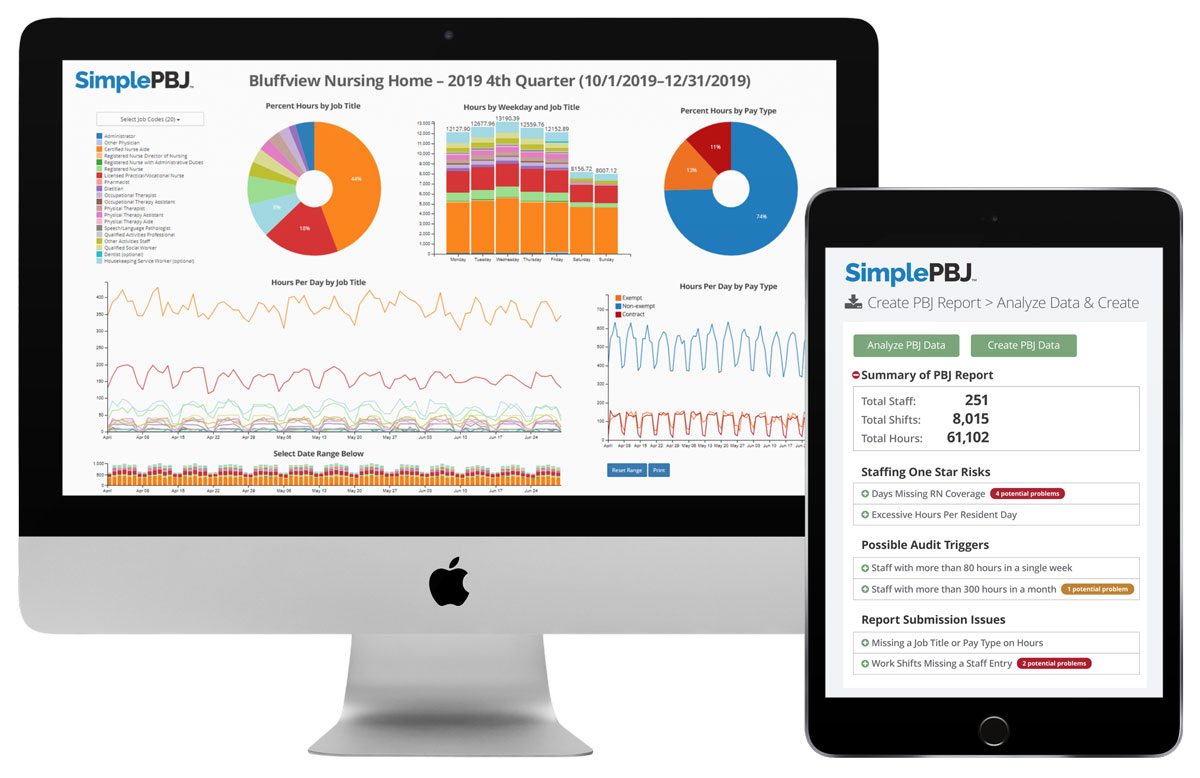 SimplePBJ™ (formerly ezPBJ™) is a complete solution for PBJ compliance and strategy:
Assemble, validate, and submit your PBJ file
Predict Staffing Five-Star rating
Run "what if" scenarios
Forecast cost impact
Benchmark your facility
Request your free trial