Today, in advance of the approaching holiday season, the Centers for Medicare & Medicaid Services (CMS) is urging nursing home staff, residents and visitors to follow established guidelines for visitation and adherence to the core principles of infection prevention. These guidelines include remaining six feet apart from individuals, wearing a face covering, and limiting the number of visitors in the nursing home at any one time. Adherence to these principles is critical in preventing the spread of the coronavirus disease 2019 (COVID-19) in America's nursing homes. While the holiday season is typically a time for family and friends to gather, CMS implores staff, residents and visitors to exercise extreme caution this year.
To view the alert, please visit: CMS' current emergencies page: https://www.cms.gov/About-CMS/Agency-Information/Emergency/EPRO/Current-Emergencies/Current-Emergencies-page
or here:  https://www.cms.gov/files/document/covid-facility-holiday-recommendations.pdf
A copy of the press release can be found here:  https://www.cms.gov/newsroom/press-releases/cms-urging-nursing-homes-follow-established-covid-guidelines-holiday-season
The Alert is a 2-page document – letter if you will – from CMS Administrator Verma.  It contains hyperlinks to other references/resources for more information.  Here's an excerpt from that document (dated November 17, 2020):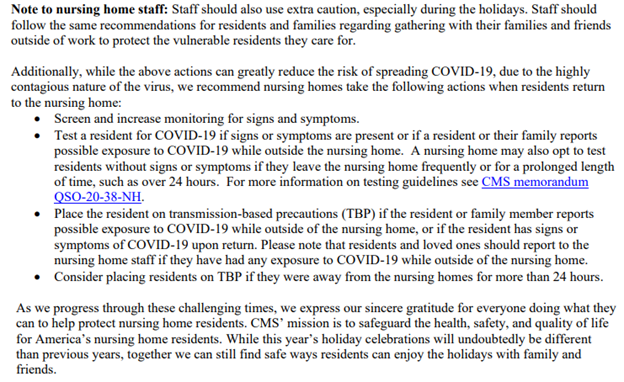 Please be safe during this holiday season that is arriving as our country and the world is in the midst of a very frightening and life-threatening surge.  We need everyone to follow mitigation and safety measures so we can stop this virus and stop the death toll.  Do your part!!
---
Want to keep up with the changing COVID-19 situation in skilled nursing?