CMS-CDC Fundamentals of COVID-19 Prevention for Nursing Home Management is a website you'll want to bookmark and check often.  On this website you'll find upcoming webinar topics, recordings posted after the webinar, presentation slides and additional resources.  I have found these webinars to be very informative.  They are 1-hour webinars – well worth your time.   If for some reason you can't attend live, you'll appreciate being able to access the on-demand recording.  Share this information with your team and colleagues.
Posted now are all of the above for the weekly webinars dating back to June 18, 2020.  Cleaning Environmental Surfaces and Shared Equipment which aired live on August 27th is the latest that is complete with the slides, recording and additional resources.
The next webinar is Thursday, September 3, 2020 - Telehealth in Nursing Homes. The objectives are:
Telehealth – which broadly refers to the use of electronic information and telecommunications technologies to provide long-distance access to health care and services such as health assessment, diagnosis, consultation and other non-clinical services – has proven to be an effective vehicle for nursing home residents to safely receive health care in the midst of the COVID-19 public health emergency. Telehealth is also considered a safe way for clinicians to provide care, as it reduces potential exposure to health care-associated infections and optimizes the use of personal protective equipment (PPE) by health care personnel. This training will offer information on the current federal policies and guidance regarding the use and reimbursement of telehealth services; implementation strategies for efficient adoption of telehealth in nursing homes to best support care delivery and remote patient monitoring; and the importance of addressing training and educational needs to prepare staff and residents.
The presentation slides and the additional resources documents are available now with the recording to be posted early next week.
On that website (hyperlink on 1st line of this blog) you'll find this Training Fundamentals Self-Assessment to help you determine what trainings you need.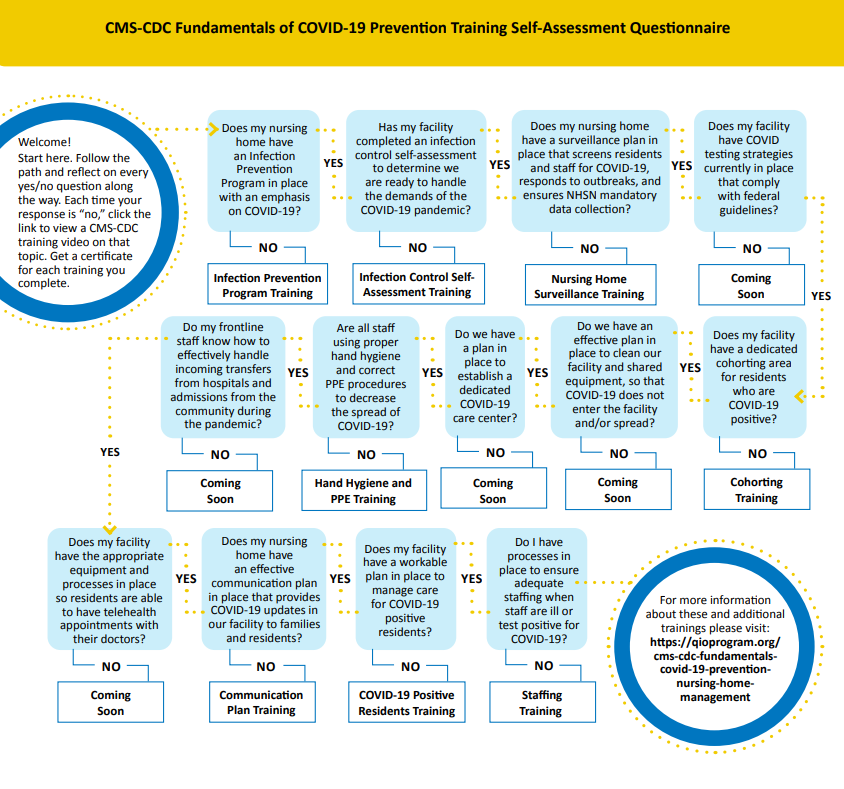 Further down on this same website, you can register for any/all of the sessions.  You'll also find this information regarding CEUs:
---
Want to keep up with the changing COVID-19 situation in skilled nursing?