This afternoon – January 21, 2021 – President Joseph Biden held a press conference to announce the National Strategy for the COVID-19 Response and Pandemic Preparedness.
This is a 200-page document. Here's a look at the Table of Contents:
The President's Executive Summary is as follows … "We can and will beat COVID-19. America deserves a response to the COVID-19 pandemic that is driven by science, data, and public health — not politics. Through the release of the National Strategy for the COVID-19 Response and Pandemic Preparedness, the United States is initiating a coordinated pandemic response that not only improves the effectiveness of our fight against COVID-19, but also helps restore trust, accountability and a sense of common purpose in our response to the pandemic.
On January 9, 2020, the World Health Organization announced that there were 59 cases of coronavirus-related pneumonia. Just one year later, the United States has experienced over 24 million confirmed COVID-19 cases and over 400,000 COVID-19 deaths. America has just 4% of the world's population, but 25% of the world's COVID-19 cases and 20% of all COVID-19 deaths. And our nation continues to experience the darkest days of the pandemic, with record numbers of cases, hospitalizations and deaths. Over 77,000 Americans lost their lives to COVID-19 in December, and across our nation businesses are closing, hospitals are full, and families are saying goodbye to their loved ones remotely.
The National Strategy provides a roadmap to guide America out of the worst public health crisis in a century. It outlines an actionable plan across the federal government to address the COVID-19 pandemic, including twelve initial executive actions issued by President Biden on his first two days in office:
The National Strategy is organized around seven goals:
1. Restore trust with the American people.
2. Mount a safe, effective, and comprehensive vaccination campaign.
3. Mitigate spread through expanding masking, testing, data, treatments, health care workforce, and clear public health standards.
4. Immediately expand emergency relief and exercise the Defense Production Act.
5. Safely reopen schools, businesses, and travel while protecting workers.
6. Protect those most at risk and advance equity, including across racial, ethnic and rural/urban lines.
7. Restore U.S. leadership globally and build better preparedness for future threats.
To execute on the National Strategy, the White House will establish a COVID-19 Response Office responsible for coordinating the pandemic response across all federal departments and agencies. Through implementation of the National Strategy, the United States will make immediate progress on the seven goals. To monitor outcomes, the National Strategy includes the creation of publicly accessible performance dashboards, establishing a data-driven, evidence-based approach to evaluating America's progress in the fight against COVID-19.
The federal government cannot solve this crisis alone. Full implementation of the National Strategy for COVID-19 will require sustained, coordinated, and complementary efforts of the American people, as well as groups across the country, including State, local, territorial, and Tribal governments; health care providers; businesses; manufacturers critical to the supply chain, communities of color, and unions. It will also require a global effort to contain the virus and advance health security.
America has always risen to the challenge we face and we will do so now. In collaboration with the people of this country, the United States government will lead an effective COVID-19 response that turns this crisis into a crucible, from which our nation will forge a stronger, better, and more equitable future."
I'm still working my way through the plan – there's a lot to digest. The term nursing home is used 5 times throughout the document with the last being in the Executive Order for Improving and Expanding Access to Care and Treatments for COVID-19 found on page 141 of the plan. This speaks to providing targeted surge assistance to critical care and LTCFs including ALs, ICF/DD and residential treatment centers:
(a) The Secretary of Defense, the Secretary of HHS, the Secretary of Veterans Affairs, and the heads of other relevant executive departments and agencies (agencies), in coordination with the Coordinator of the COVID-19 Response and Counselor to the President (COVID-19 Response Coordinator), shall promptly, as appropriate and consistent with applicable law, provide targeted surge assistance to critical care and long-term care facilities, including nursing homes and skilled nursing facilities, assisted living facilities, intermediate care facilities for individuals with disabilities, and residential treatment centers, in their efforts to combat the spread of COVID-19.
Other early observations are:
Mention is made to senior/congregate living in terms of making "models like the CDC Pharmacy Partnership for Long-Term Care Program" available to high risk communities on page 45
Also on page 45 and extending on page 46: "To increase incentives to vaccinate Medicare beneficiaries, CMS will evaluate how to incorporate quality measures for COVID-19 immunizations into its value-based purchasing programs, including Medicare Advantage Star-Ratings, the physician quality payment program, and accountable care programs. Such measures would be similar to how Medicare today promotes distribution of the annual flu vaccine. CMS will also use Medicare data to identify beneficiaries at the highest-risk and work with states and localities to operationalize vaccination plans. The Administration will also build on the CDC Pharmacy Partnership for Long-Term Care (LTC) Program to ensure that long-term care residents and staff can receive vaccinations in as streamlined and effective manner as possible."
Pages 60 and 61: "President Biden issued Executive Order Improving and Expanding Access to Care and Treatment for COVID-19 which also outlines steps to bolster clinical care capacity, provide assistance to long-term care facilities and intermediate care facilities for people with disabilities, increase health care workforce capacity, expand access to programs designed to meet long-term health needs of patients recovering from COVID-19, and support access to safe and effective COVID-19 therapies and for those without coverage."
Page 103: "HHS and the Center for Medicare and Medicaid Services will strengthen Long Term Care facility guidance, funding, and requirements around infection control policies; support Long Term Care staffing levels sufficient to ensure patient safety and support the accelerated distribution of vaccines to residential care settings."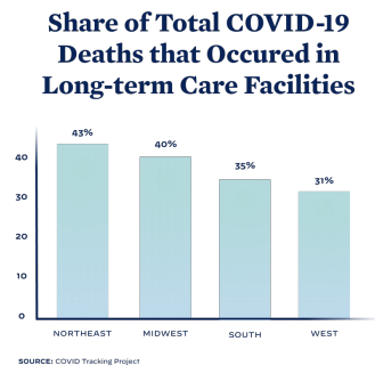 I'm certain we'll hear more in the next several days as this is a top priority for the Biden/Harris Administration.