"Today, the Centers for Medicare & Medicaid Services (CMS) is posting the first set of underlying coronavirus disease 2019 (COVID-19) nursing home data. On April 19, 2020, CMS announced the requirement that nursing homes to inform residents, their families, and their representatives of COVID-19 cases in their facilities. In addition to this, nursing homes are required to report COVID-19 cases and deaths directly to the Centers for Disease Control and Prevention (CDC) and today CMS is making this data publicly available.  As part of today's announcement CMS is also posting the results from the targeted inspections announced on March 4, 2020, to allow inspectors to focus on the most serious health and safety threats like infectious diseases and abuse during the pandemic.
The data released today shows that as of May 31, 2020, about 13,600 nursing homes – approximately 88 percent of the 15,400 Medicare and Medicaid nursing homes – had reported the required data to the (CDC). These facilities reported over 95,000 confirmed COVID-19 cases and almost 32,000 deaths. The next set of data will be updated in two weeks.  Going forward after that date, CMS plans to update the data weekly."
Access today's Press Release here.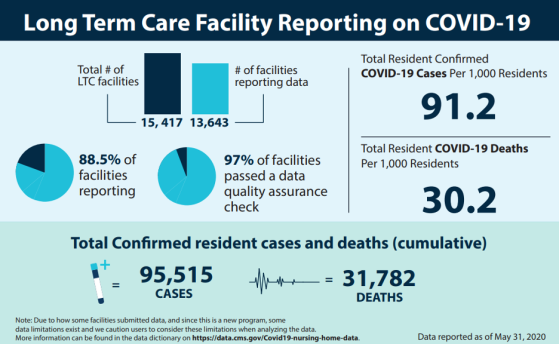 To view the Nursing Home COVID-19 data, visit here.  This is a HUGE dataset with many layers.  You'll see this introduction when you step onto this webpage (bolding added by me):
The Nursing Home COVID-19 Public File includes data reported by nursing homes to the CDC's National Health Safety Network (NHSN) system COVID-19 Long Term Care Facility Module, including Resident Impact, Facility Capacity, Staff & Personnel, and Supplies & Personal Protective Equipment, and Ventilator Capacity and Supplies Data Elements.
For a full list of variables included in this Public Use File (PUF) and their descriptions, please see the data dictionary. The file contains an individual record for each certified Medicare skilled nursing facility/Medicaid nursing facility and the ending date for each collection week and is updated weekly. More information on CMS requirements for reporting COVID-19 information can be found here. We note that the presence of cases of COVID-19 in a nursing home does not automatically indicate noncompliance with federal requirements. This information is used to assist with national surveillance of COVID-19 in nursing homes, and support actions to protect the health and safety of nursing home residents.
NOTE: This is preliminary data and may be subject to fluctuations as facilities are given the opportunity to submit and correct their data on the NHSN website. The first deadline for reporting data was 11:59 p.m. Sunday, May 17, 2020. As the number of facilities reporting increases each week, it will increase the reported number of COVID-19 cases, suspected cases, and deaths each week. Additionally, facilities may opt to report cumulative data on their first collection date retrospectively to January 1, 2020. Due to these factors, the number of cases, suspected cases, and deaths reported by some facilities' first data submission may be higher because it reflects data over a longer length of time, rather than in the last seven days. As a result, the first few weeks of data posted on this site are impacted by a change in the number of facilities reporting each week, and facilities reporting cumulative numbers in their first data submission, in addition to the actual number of cases, suspected cases, or deaths that occurred in the seven days preceding the weekly reporting deadline.
Additionally, data quality checks were performed to identify instances where facilities may have entered incorrect data, such as entering cumulative counts over time instead of new cases, and other data entry errors. In these cases, we will display facilities as having submitted data, but will not include their data in our dataset or analyses to preserve the accuracy of the data presented. Facilities that have submitted erroneous data will have an "N" displayed in the column titled "Passed Quality Assurance Check."
Therefore, CMS cautions users to consider these factors when performing any analysis. For example, data reported over the first few weeks should not be used to perform trend analysis and longitudinal analyses. We expect the data stabilize as nursing homes become more familiar with how to submit data via the NHSN Long Term Care Facility Module. Please view the Data Dictionary for more information about data limitations.
These modules are available beneath the above disclaimer:
There's a lot of information in this dataset.  Please take the time to review each of the above modules so you know what it is you're looking at.
In addition, CMS issued QSO 20-32-NH today. This QSO is a short one – 2 pages in length.
I encourage you and your team to review this data on a regular basis – in addition to submitting it at least every 7 days.
If you're not submitting yet, you need to do so ASAP.  Please reference these past blogs:
Have questions about your data?  This June 10, 2020 webinar should be helpful.  Register now.
Initial Nursing Home COVID-19 Data – As of June 1, 2020 is a blog from 3 days ago that reports data by state.  It was the initial COVID-19 data report with data reported as of May 24, 2020.
Nursing Home Compare website shows this new information:
Viewing the data link on the last line of the first bullet sends the viewer to these files – COVID-19 Infection Control Surveys after CMS announced such surveys: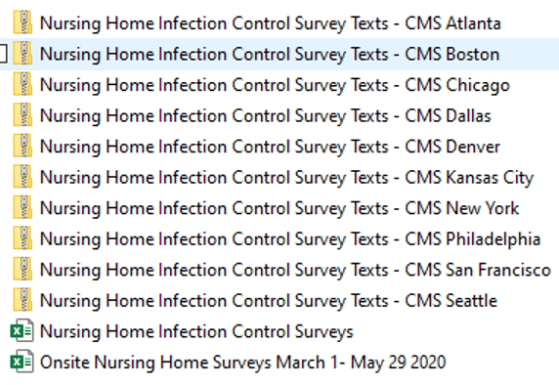 Each of the .zip files opens to a single file which opens to PDF documents.  The Onsite Nursing Home Surveys spreadsheet show this data:

Viewing the data link on the last line of the second bullet, sends the viewer back to COVID-19 Nursing Home Data ... Data.CMS.gov.
This is new ground for me to cover but my first reaction is this delivery of data is not user-friendly for Nursing Home Compare viewers, especially non-providers.  I'll see if that opinion changes as I work with the many data resources.
---
Want to keep up with the changing COVID-19 situation in skilled nursing?