Last month, SimpleLTC served as the presenting sponsor of the 2016 AANAC Annual Conference, which took place April 11-15 in Atlantic City, New Jersey. This marked our sixth consecutive year to exhibit at the event, and fifth consecutive year to serve as the primary presenting sponsor. We also sponsored and hosted the Ignite® speaker event for the second consecutive year.
Why does SimpleLTC invest our time, energy and money in this annual event for MDS professionals? To put it simply: Because AANAC makes a difference.
It's been said that the most difficult of all professions is nursing. It's also been said that the most difficult job in nursing is that of MDS Coordinator. If you believe that to be true (and we do), then the MDS nursing professionals who attend this event are some of the hardest working people in all of healthcare. The work they do every day is incredibly important to the care and quality of life of millions of residents of long-term care facilities. They're also frequently under-appreciated for their efforts.
So we're proud to support MDS nursing professionals and the AANAC organization by sponsoring and exhibiting at the conference. Every year, the AANAC event provides new opportunities for us to network with MDS professionals, have fun, and learn more about the ever-changing worlds of long-term care, MDS 3.0 compliance and SNF reimbursement.
A super mug for superheroes
The MDS professionals who attend the AANAC conference are definitely superheroes. That's why we created the "MDS Superhero" mug as our giveaway for all AANAC attendees. It was a hit, with more than 600 mugs being eagerly snatched up by attendees.
Ignite Happy Hour
Thanks to all the attendees who attended the evening Ignite Happy Hour! During the event, six presenters each had 20 slides, which automatically advanced every 15 seconds. Given just five minutes to present, each speaker did an outstanding job inspiring attendees with new ideas and information.
Special thanks to Christa Masden, who bravely volunteered to do our "random" Ignite presentation, covering 20 crazy slides she had never seen before.
Congratulations to our AANAC prize winners!
One of the ways we support AANAC attendees is by giving them a chance to win prizes that are worth bragging about. This year we had three big giveaways.
$250 Target gift card – Exhibit hall attendees
Congratulations to Susan Papenbrok, Clinical Reimbursement Consultant, who won our $250 gift card drawing for exhibit hall attendees.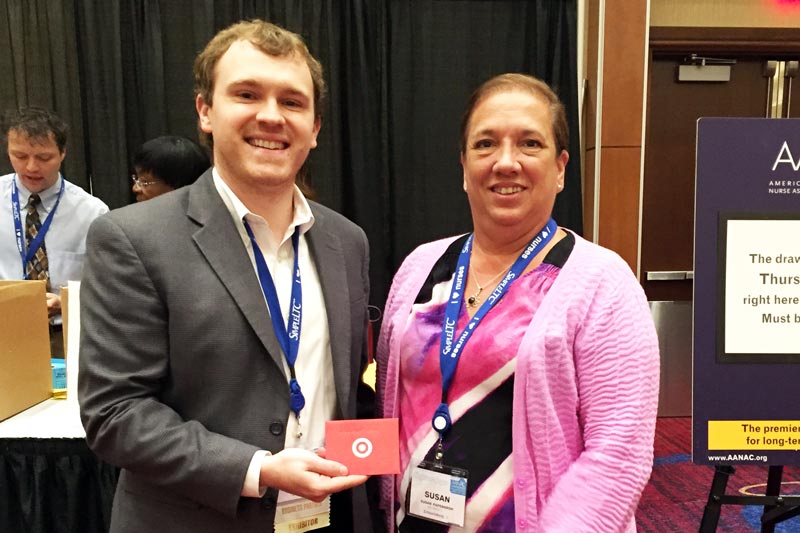 $250 cash – Ignite attendees
Congratulations to Mary Medner, who won our $250 cash prize drawing during the Ignite Happy Hour. Mary also managed to get several of our New Jersey trivia questions right!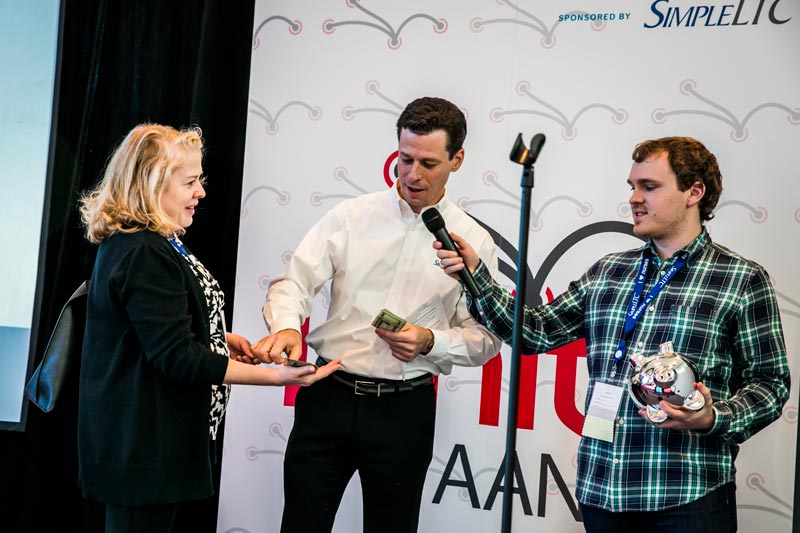 $500 cash – free 15-minute demo drawing
To cap off the prizes, we offered a $500 prize drawing for anyone interested in participating in a quick online demo of our latest product enhancements.
Congrats to our lucky winner, Karla Wishon, Nurse Assessment Coordinator at Vetter Health Services. When we told her she had won, she said "I'm very excited that I won and appreciate the opportunity to participate in the contest!"