I listened in to the Kaiser Family Foundation webinar A Shot in the Arm for LTC Facilities? Early Lessons from the COVID-19 Vaccine Rollout to High Priority Populations on January 14, 2021 and it was well worth the time. The hyperlink in the previous sentence will take you to that recording. The slides are also found on that link as well as here. There are 8 data and info slides. The panel discussion that followed was valuable.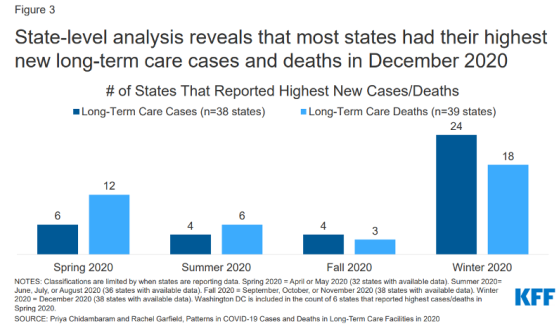 An esteemed group of individuals provided valuable information about the rollout of the COVID-19 vaccine to date … about 1 month in.
Residents are much more receptive to taking the vaccine and are doing so! It's the staff in the LTCFs that have many questions and are not so responsive. The panel noted that there is a lot of misinformation circulating about the vaccine which adds to the hesitancy of LTC staff. Walgreen's reported that they have completed 6,000 clinics to date this past month and have another 6,000 clinics scheduled for next week. The panel also discussed how to promote the vaccine to those hesitant staff members.
I encourage you to listen to the recording – share the link with your team and your colleagues. You'll be glad you did!
Check out KFF's COVID-19 Vaccine Monitor (December 2020) as well. There's a wealth of information on that webpage.
My last recommendation is 2 analyses published on January 14, 2021. KFF examined trends in COVID-19 cases and deaths in long-term care settings, and factors associated with COVID-19 in such settings.