"Connections between generations are essential for the mental health and stability of the nation."Margaret Mead
As any lover of gourmet food can tell you, amazing things often result when you mix unexpected ingredients. In the case of a Seattle nursing home, the diverse ingredients are not food groups but age groups.
It's all happening at the Intergenerational Learning Center, a combination preschool and nursing home in Seattle that houses more than 400 senior adults. Five days a week, residents and children come together for planned activities such as music, dancing, art, meals, storytelling or just visiting.
As a result, the elderly adults are experiencing a "complete transformation" in the presence of the children, according to filmmaker Evan Briggs who is creating a documentary film about this unique facility.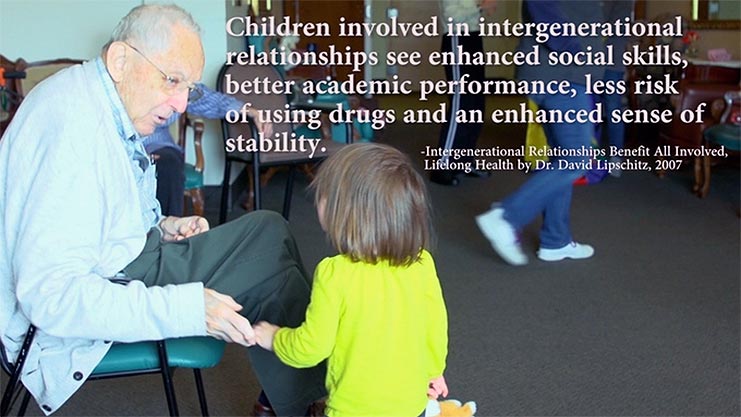 [Photos by Evan Briggs/Present Perfect]
"Moments before the kids came in, sometimes the people seemed half alive, sometimes asleep," she said. "It was a depressing scene. As soon as the kids walked in for art or music or making sandwiches for the homeless or whatever the project that day was, the residents came alive."
The film is called "Present Perfect", referring to the combination of two diverse groups on opposite ends of the age spectrum, and covers the 2012-2013 school year. Briggs, an adjunct professor at Seattle University, shot the film herself and has so far funded it completely on her own. But she needs additional resources to cover the editing and post-production work that would allow it to reach film festivals and a wider audience.
That's why she launched a Kickstarter campaign to raise the remaining amount. She currently has $73,000 of her $100,000 goal, with 14 days to go. News of the film and fundraising campaign has reached several national outlets, so her stretch goal suddenly seems almost in sight.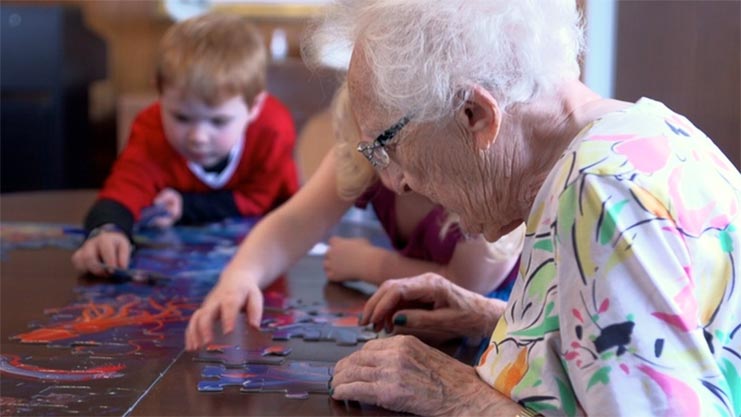 [Photos by Evan Briggs/Present Perfect]
Why we're helping
SimpleLTC has pledged money to Briggs' Kickstarter campaign because unique ideas like this one deserve a wider audience. As an agile software company, we look for ways to shake up the status quo and find better solutions to stubborn problems. The Intergenerational Learning Center is doing the same, and it's changing lives.
As our population ages, society will be increasingly challenged to find new ways to support the elderly — not just through long-term care and skilled nursing, but in ways that make their lives fulfilling and worthwhile.
Luckily, you don't have to look far to find new ideas in elder care that are making a difference.
In the Netherlands, a nursing home offers rent-free housing to college students in return for their providing help and companionship to the elderly residents. Then there's cutting-edge facility known as Dementia Village, where residents have free access to everything a town would provide, but receive constant oversight and round-the-clock care.
For Briggs' part, she's hoping her film contributes to a conversation about aging in America. We invite you to help support her film, and to continue the conversation about how we will care for seniors, now and far into the future.