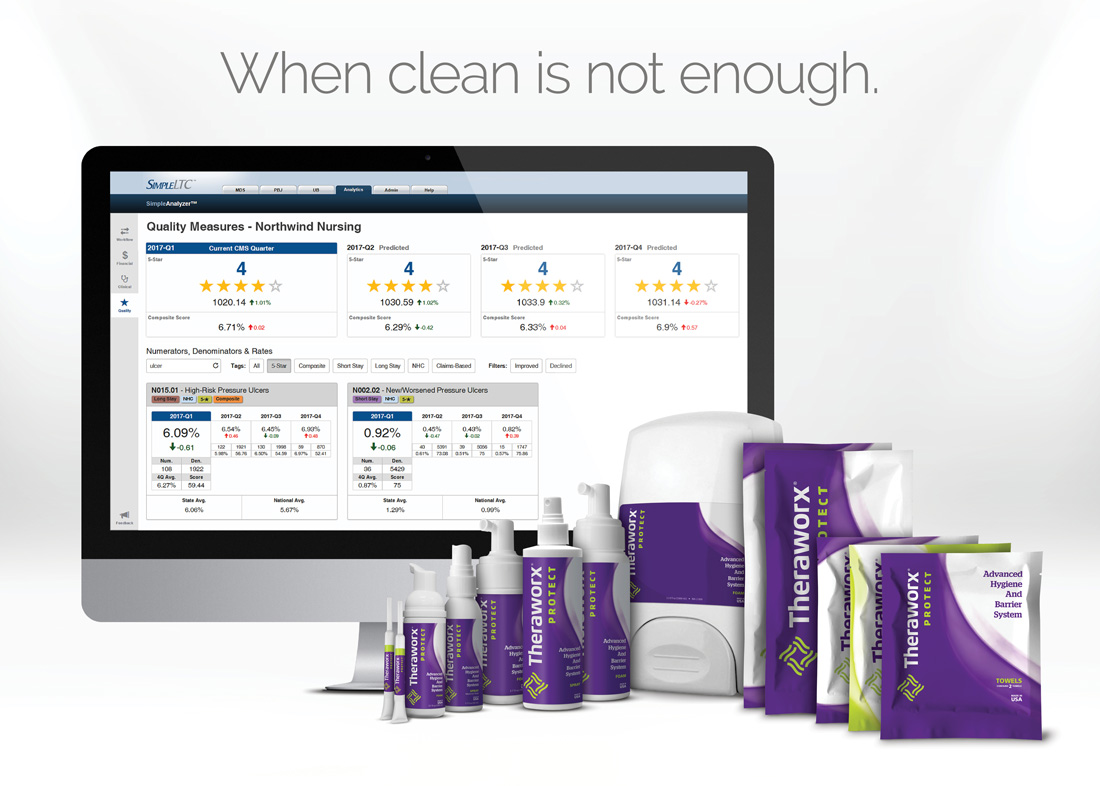 Theraworx + SimpleLTC =
Evidence-based outcomes for skin care.
---
Why Theraworx® Protect?
Theraworx is designed to help patients/residents who need more than soap and water to address skin cleansing, protection, support, and hygiene needs for peri-care, urinary analysis, incontinence associated dermatitis, and total body bathing.
Theraworx Protect supports skin immune health without FDA-approved antiseptic drugs, can provide outcomes for patients and/or residents who don't respond to first-line or traditional therapies, and is ideal for higher acuity patients.
Theraworx combines highly specialized surfactants and skin-friendly compounds to support the critical barrier and antimicrobial functions of the outer layer of the skin, the stratum corenum.

Why SimpleLTC analytics?
When you combine Theraworx with SimpleAnalyzer™ from SimpleLTC, you can get real-time insights into resident skin care outcomes and MDS 3.0 quality measures, such as UTIs, incontinence associated dermatitis and high-risk pressure ulcers.
SimpleAnalyzer™ utilizes your ongoing flow of MDS 3.0 data (including your most current MDS submissions) to present outcome data in real time, providing true evidence-based reporting for improving outcomes.
You also get an advanced toolkit of intelligent, predictive MDS 3.0 analytics to help quickly improve Five-Star ratings and quality measures, reduce rehospitalizations and optimize reimbursement across all your facilities.

---
---
---
Ready to find out more?
Test the results for yourself with a free product evaluation from Theraworx/SimpleLTC, plus get preferred pricing via product distribution from Briggs Healthcare.
---
---
---