SimpleConnect™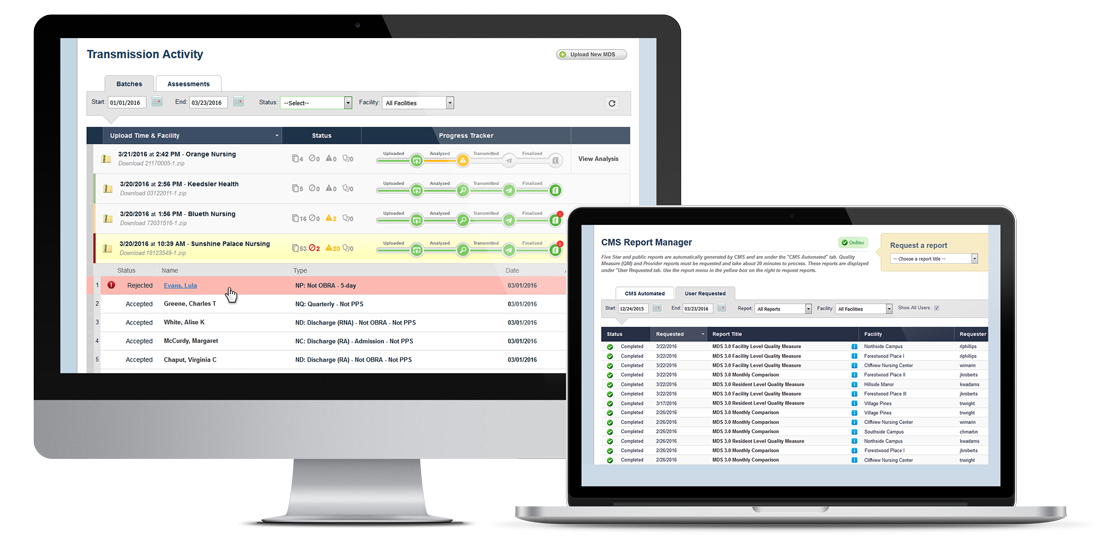 ---
Simplify MDS + PBJ transmission to CMS, file tracking and CASPER reports
SimpleConnect™ (previously known as SimpleMDS™) is the proven, best-practice MDS 3.0 transmission solution for long-term care. Over 4,000 long-term care organizations trust SimpleConnect for MDS workflow automation and have used it to submit more than 30,000,000 assessments to CMS.
Why is SimpleConnect the most popular third-party software solution to simplify MDS transmission? Because it streamlines a complex process while reducing errors and improving reimbursement accuracy and control.
You complete the MDS and we handle the rest. SimpleConnect takes the messy manual complexities of MDS transmission and tracking out of your workflow, allowing you to focus on quality care. No cumbersome VPN (CMSnet Verizon VPN) required! All your CMS/CASPER reports are retrieved in a simple dashboard view and you can easily track warnings, and correct and resubmit rejects in minutes.
SimpleConnect simplifies workflow, eliminates delays and increases reimbursement accuracy. Organizations with multiple facilities can easily analyze quality measures across multiple facilities.

What you can do with SimpleConnect™
Simplify MDS and PBJ transmission to CMS

Improve data accuracy and control

Eliminate the CMSNet VPN

See all data in a simple dashboard view

Correct and resubmit rejects in minutes

Retrieve CMS reports

Manage multiple facilities
---
Simplify MDS transmission to CMS
Transmitting your MDS files to CMS is simple…zero headaches! You create the MDS, we handle the rest. SimpleConnect eliminates the manual complexities of CMS transmission, allowing you to focus on quality care. Final Validations and CASPER reports are retrieved and archived for you, and warnings or rejects can easily be corrected with a few clicks. You can also manually transmit individual MDS files or batches as needed.


Easily meet PBJ submission requirements
New Payroll-Based Journal (PBJ) requirements add an additional burden to SNF workloads — one that can result in stiff penalties if mishandled. SimpleConnect eliminates all your file submission and tracking worries. Once PBJ files are completed, they are submitted to CMS and PBJ reports are retrieved for you. Visual indicators help you track transmission status, warnings and reports.

---
One simple dashboard for MDS + PBJ data
All your PBJ and MDS transmissions and Final Validations can be tracked together in a simple dashboard. A visual progress bar makes tracking uploads, transmissions and reports simple, even across multiple facilities. You'll see at a glance where your files are in the transmission and analysis process, and can open reports with one click.


---
Eliminate manual complexities of the CMS VPN
A common complaint from SNFs and their IT support groups is that utilizing the CMSNet VPN to transmit files is difficult and cumbersome. With SimpleConnect, there are no VPN worries. Once the MDS is completed, we handle the messy complexities of CMS transmission, eliminating your need to manage VPN processes and move sensitive files among computers.


---
---
---
One location for all your CASPER reports
You can view and print Initial Feedback and Final Validation reports, as well as two years of MDS assessments, Initial Feedback and Final Validation reports. Items over two years old are automatically archived for retrieval any time you need them.


---
MDS analysis is built into the workflow
Now you can automatically analyze every MDS sent to CMS.
SimpleAnalyzer™
users can customize their analytics to maximize billing opportunities and regulatory compliance – all as a natural part of the MDS workflow.

---
---
---